.
Ticket purchasers are responsible for informing and providing this Audience Policy to their guests or other attendees for whom they are providing tickets. Anyone not abiding by these health and safety protocols may be denied entry or asked to leave the facility.
We recognize that public health guidelines may change in the coming months and ask for your patience as we make any necessary safety adjustments. All policies are subject to change at Dell'Arte's sole discretion and without notice.
Dell'arte International presents: The Macabre Cabaret
Back from the Virtual Land of the Dead, the Dell'Arte Company presents "The 2022 Macabre Cabaret" at the Carlo Theatre in Blue Lake, CA at 131 H. Street! This will be a raucous night filled with Eldritch horrors, comedy of the occult, grotesque acts, witchy wonders, and live music. We promise you will leave feeling delightfully doomed! Special guests include the terror-fic Jesse March, the master of demise, Michael Fields, the silver-toungued Donald Forest, dancer of the doomed Cleo DeOrio,…. AND MORE! 
Dell'arte International presents: The Bartow Project
The Bartow Project culminates a 3 year creative collaboration between Dell'Arte, the Wiyot Tribe, Native filmmakers, and the HSU Goudi'ni Gallery to present 4 short films to Humboldt County audiences about the art and life of Wiyot artist Rick Bartow. Featuring 2 documentary style shorts, one animation, and one dance video, Artistic Directors Michelle Hernandez (Wiyot) and Zuzka Sabata executive produce this hour-long program featuring 5 Native filmmakers. For details on the concurrent exhibit of Rick Bartow's art at the Goudi'ni Gallery please visit: https://art.humboldt.edu/goudini-native-american-arts-gallery
Project Artistic Directors: Michelle Hernandez & Zuzka Sabata
Film Directors: Chag Lowry, Nanette Kelley, Chantal Jung, Michelle Hernandez, and Samantha Williams-Gray
Featuring: James Lavadour, Charles Froelick, Lillian Pitt, Marnie Atkins, Cleo DeOrio, Evan Grande.
Bird of the Inner Eye
Dell'Arte International and Arcata Playhouse are proud to present the first workshop production of this new work, with libretto by our Founding Artistic Director, Joan Schirle. This is a true 'theatre of place' event, as Graves spent the last 30 years of his life in Loleta, CA. Tickets are $20 for general admission and $50 for the opening night gala event (for Inner Eye Circle Donors).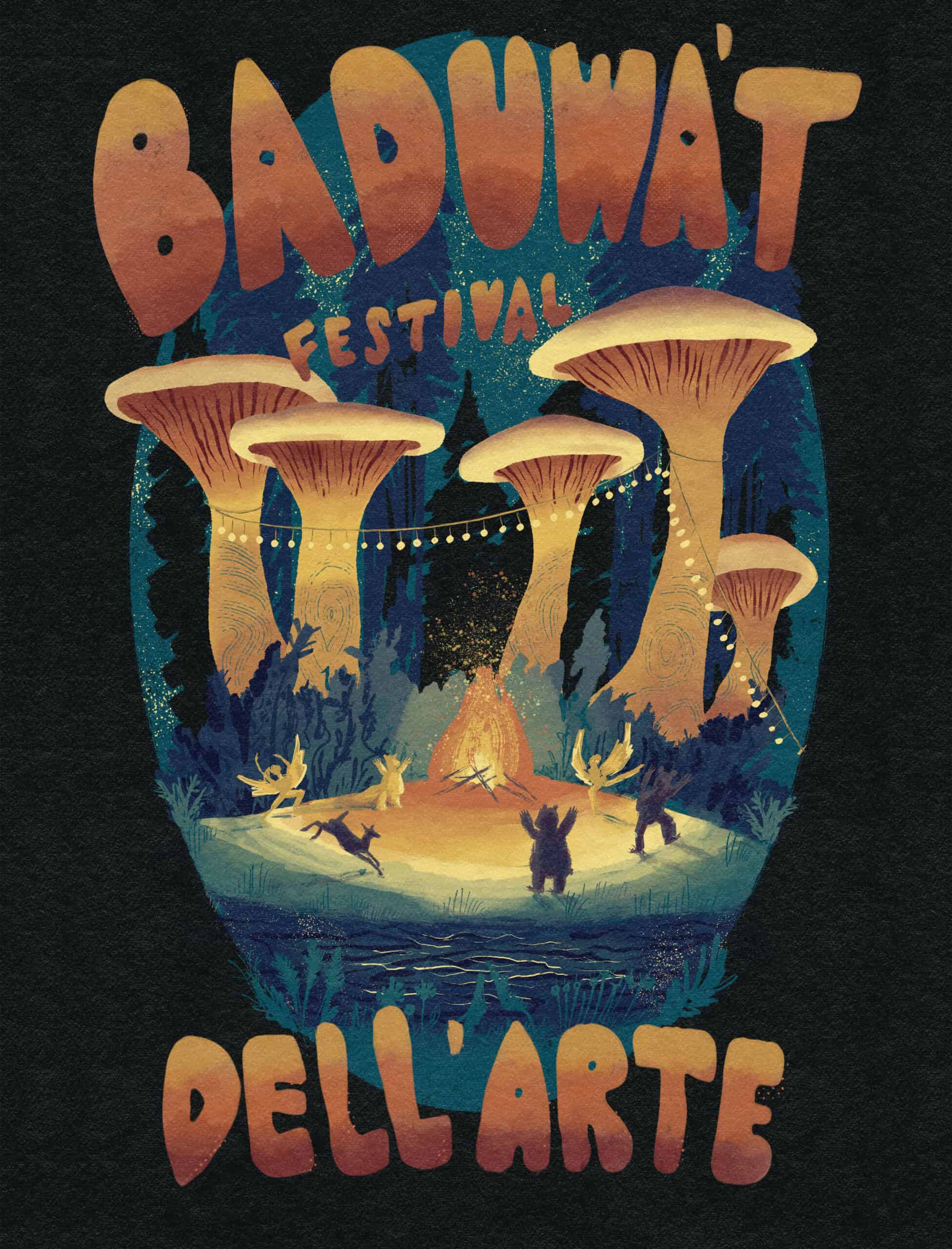 July 14-18 2021
2021 Baduwa't Festival: A Gathering of the People
Dell'Arte International and partners present a 5 day-and-night festival  - a culmination of performing arts, music, celebration and connectivity, held on the ancestral lands of the Wiyot Tribe.
The festival will be held in Dadiqhoughuk (Blue Lake) July 14-18 at Dell'Arte's spaces at 131 H. Street with COVID-19 safety measures in place. Attendance will be limited and festival-goers are encouraged to purchase tickets in advance as much as possible.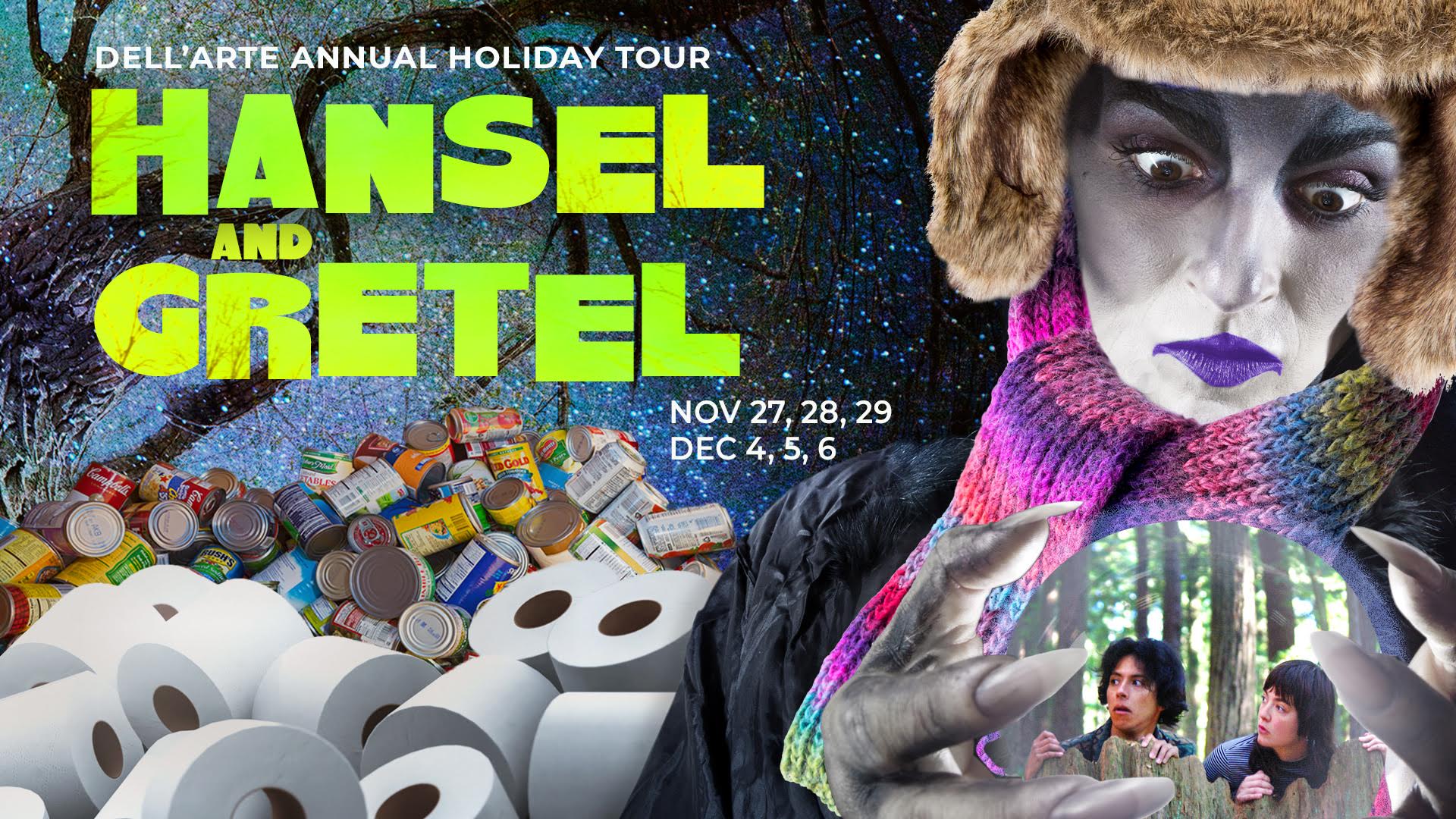 November 27, 28 & 29 December 4, 5 & 6
Hansel and Gretel
Dell'Arte's Annual Holiday Touring Show
The Dell'Arte Company's annual Holiday Show tour, now in its 40th year, will not take a break due to the worldwide pandemic. Instead audiences are invited to usher in the festive season with an adaptation of "Hansel and Gretel," which will be available through the comfort of their home and devices. 
Crafted for children and families in a way that is accessible, safe and free, this timeless tale will be told through Dell'Arte's unique comic, physical performance lens. Traditionally performed at various schools, theatres, community centers and other spaces throughout the North Coast, performances will instead be streamed through social media and aired on local PBS affiliate KEET-TV.
"At this moment, where crises ­­– from a pandemic to a movement for social and racial justice, to struggling businesses all converge – it is our intent to offer an experience of joy and possibility to the community," said Dell'Arte Producing Artistic Director Michael Fields. "And in this enduring tale, written in a time of global hardship, it is the children who are the wise ones."
Adapted from the Brothers Grimm classic fable, "Hansel and Gretel" includes Dell'Arte's trademark physical performance style as well as original music. Fields is the director, Dell'Arte Faculty Member Carlos Gallegos is assistant director, and the third-year MFA students will perform the show.
Dell'Arte International