2023-2024 SEASON
No performances planned for September. Check back soon!

2023 Baduwa't Festival


Ship of Fools; A Puppet Odyssey

In the Rooney Amphitheater for one night only!
Dell'Arte presents String & Shadow (Olympia, WA) and their new show Ship of Fools: A Giant Puppet Odyssey.
Three mimes set sail from the Port of Styx across the mythical boundary waters connecting the world of the living to the underworld. Aboard a mysteriously sentient ship, they encounter a world of beautiful and strange creatures: hermit crabs carrying houses on their backs, a ghostly humpback whale, and much more.
Under layers of colorful fabric and dancing cardboard, Ship of Fools deals with themes of loss and acceptance, depicting a wondrous unknown and speaking to the power of friendship and love. It is brought to life by 3 mimes, 3 musicians, and 6 puppeteers.
Lawn opens at 6pm. Show at 6:30pm.
Tickets: $12.50 Child/Senior, $20.00 Adult
2023 Baduwa't Festival


Irvinville
Our final event in the Baduwa't Festival features two Dell'Arte alumni, Lucius Robinson and Kevin Duvall!
LuDu Productions brings "Irvinville," a tragicomedy exploring America's penchant for self-destruction, even in the glaring face of catastrophe.
It is the story of Jaxson Sallow, a decrepit old boy, and the only person left to maintain the archaic machinery which powered the once great town. Alone in his final moments, he is visited by the being that sent both he and Irvinville on their apocalyptic path: Mary the elephant.
Through a sculpted whirlwind of characters, stories, memories, and lies, the truth of this place is gradually revealed: violence is easy; more than easy, it is natural. This minimalist theatrical production featuring only two performers, bounding between a dozen characters without a prop, set, costumes, or any other technical elements will run for two nights in the Carlo Theater.
Tickets: $20
2023 Baduwa't Festival


Mad Labs

Mad Labs celebrates physically based new experimental works in theatre and performance created by Dell'Arte resident artists, alumni, and community artists.
This event is week 3 of the Baduwa't Festival, and features multiple new works and artists that vary in length, style, genre, and subject. The lineup of each night varies. Audiences will experience a range of performance and artistry that reveals the extraordinary and embraces a fresh perspective on ourselves and the world. Featuring work by: Juliana Frick, Julie Douglas, Cleo DeOrio, Alyssa Hughlett, and Tony Fuemmeler.
Performances are in the Carlo Theater. Tickets are $18.
The FINALS

Welcome back! This year you've been there with us in the Carlo Theater as the Professional Training Program ensemble has explored the creation of original theater. You've witnessed the laughter, the tears, the poetry. You've seen them create memorable characters and wrestle with big themes. For their final performances in the school year, students are preparing a smorgasbord of offerings—from dance to mask theater to clown to tragedy—and you are their final teacher! In this show, we invite you to give feedback on what mattered to you as an audience and help them step into the world to make engaging theater.
This show is two nights only! Some themes and content may be inappropriate for younger audiences; parental discretion is advised.
CLOWN
Come laugh with us! This popular performance marks the culmination of a five week study of clown, a unique theatrical form with roots in the circus, vaudeville, and the clowning traditions of cultures across the globe. Prepare to be delighted and charmed by the humanity, honesty, and buoyant laughter of the clowns!
This show always sells out. Advance tickets are recommended.
HERE COMES THE FLOOD
What happens when we get out of balance with the world? Dell'Arte International School of Physical Theatre's Professional Training Program ensemble presents "Here Comes The Flood," an exploration of the realm of the Dramatic Mask.
The desire to control…a tragic event...the actions of one deciding the fate of many.This performance is inspired in part by the 1928 St. Francis Dam Disaster, an often overlooked but important piece of California history. The powerful forces at play in this event feed into the conflict, choice, and consequences in the evening of scenes students have created. What would you do when the flood arrives, what would you choose, what would you stand for? 
A Night of Commedia!
An audacious exploration of our humanity. Known for its distinct masked character types, improvisational play, musicality, acrobatics, and a bold, presentational style, Commedia Dell'Arte is a study of the Human Comedy. Students investigate the classic Italian Commedia archetypes, find their expression in contemporary masked characters, and create original scenes and comic interludes. Witness the hilarious, over-the-top, bawdy, highly physical play of people fighting for their needs for love, food, money, sex and justice.
Performances are high octane and often involve adult themes. Bring your friends, bring your family, but don't bring your little ones – this show will be outrageous and filled with bodily humor.
US Bank Presents
The Dell'Arte Company Holiday Show & Tour
NightLight: A Winter Solstice Story
This year's Holiday Show Tour features an original piece of theatre: NightLight: A Winter Solstice Story. In the darkness, there are mysteries, creatures, mischief, and metamorphosis. In the light, there are truths, togetherness, enlightenment, and growth. Or is it the other way around? Join Dell'Arte's ensemble of storytellers and shapeshifters on a journey to discover what can be illuminated in the darkness. Immerse yourself in a world of shadow and light, sound and silence, where the characters try to find balance in the contrasts of their world. Will they find it in each other or within themselves? Inspired by solstice tales and myths from around the world, NightLight is a seasonal story for our time. NightLight celebrates Dell'Arte's return to touring in-person live theatre performances to rural communities in Humboldt, Trinity, and Mendocino counties after two years of Covid hibernation.
Dell'arte International presents:  Jesus Qhrist
It's a strange time to be a Republican. Actually, scratch that; it's extremely easy to be a Republican these days. You just have to love the Lord Jesus Christ, watch Fox News so you know what to hate, and vote for the overtly racist and sexist guy with multiple divorces and zero political experience. In the words of Pious Tucker II, how did we get here? Tucker's just asking questions, after all.
"Jesus Qhrist" is the latest solo performance from Dell'Arte International alumni Christopher Kehoe, using clown and satire to interrogate the forces behind today's burgeoning so-called "Christian" nationalism. Don't "stand back and stand by" for this insurrection of a good time!
Content warning: direct quotes from the 45th President of the United States of America.
Dell'arte International presents: The Macabre Cabaret
Back from the Virtual Land of the Dead, the Dell'Arte Company presents "The 2022 Macabre Cabaret" at the Carlo Theatre in Blue Lake, CA at 131 H. Street! This will be a raucous night filled with Eldritch horrors, comedy of the occult, grotesque acts, witchy wonders, and live music. We promise you will leave feeling delightfully doomed! Special guests include the terror-fic Jesse March, the master of demise, Michael Fields, the silver-toungued Donald Forest, dancer of the doomed Cleo DeOrio,…. AND MORE! 
Dell'arte International presents: The Bartow Project
The Bartow Project culminates a 3 year creative collaboration between Dell'Arte, the Wiyot Tribe, Native filmmakers, and the HSU Goudi'ni Gallery to present 4 short films to Humboldt County audiences about the art and life of Wiyot artist Rick Bartow. Featuring 2 documentary style shorts, one animation, and one dance video, Artistic Directors Michelle Hernandez (Wiyot) and Zuzka Sabata executive produce this hour-long program featuring 5 Native filmmakers. For details on the concurrent exhibit of Rick Bartow's art at the Goudi'ni Gallery please visit: https://art.humboldt.edu/goudini-native-american-arts-gallery
Project Artistic Directors: Michelle Hernandez & Zuzka Sabata
Film Directors: Chag Lowry, Nanette Kelley, Chantal Jung, Michelle Hernandez, and Samantha Williams-Gray
Featuring: James Lavadour, Charles Froelick, Lillian Pitt, Marnie Atkins, Cleo DeOrio, Evan Grande.
Bird of the Inner Eye
Dell'Arte International and Arcata Playhouse are proud to present the first workshop production of this new work, with libretto by our Founding Artistic Director, Joan Schirle. This is a true 'theatre of place' event, as Graves spent the last 30 years of his life in Loleta, CA. Tickets are $20 for general admission and $50 for the opening night gala event (for Inner Eye Circle Donors).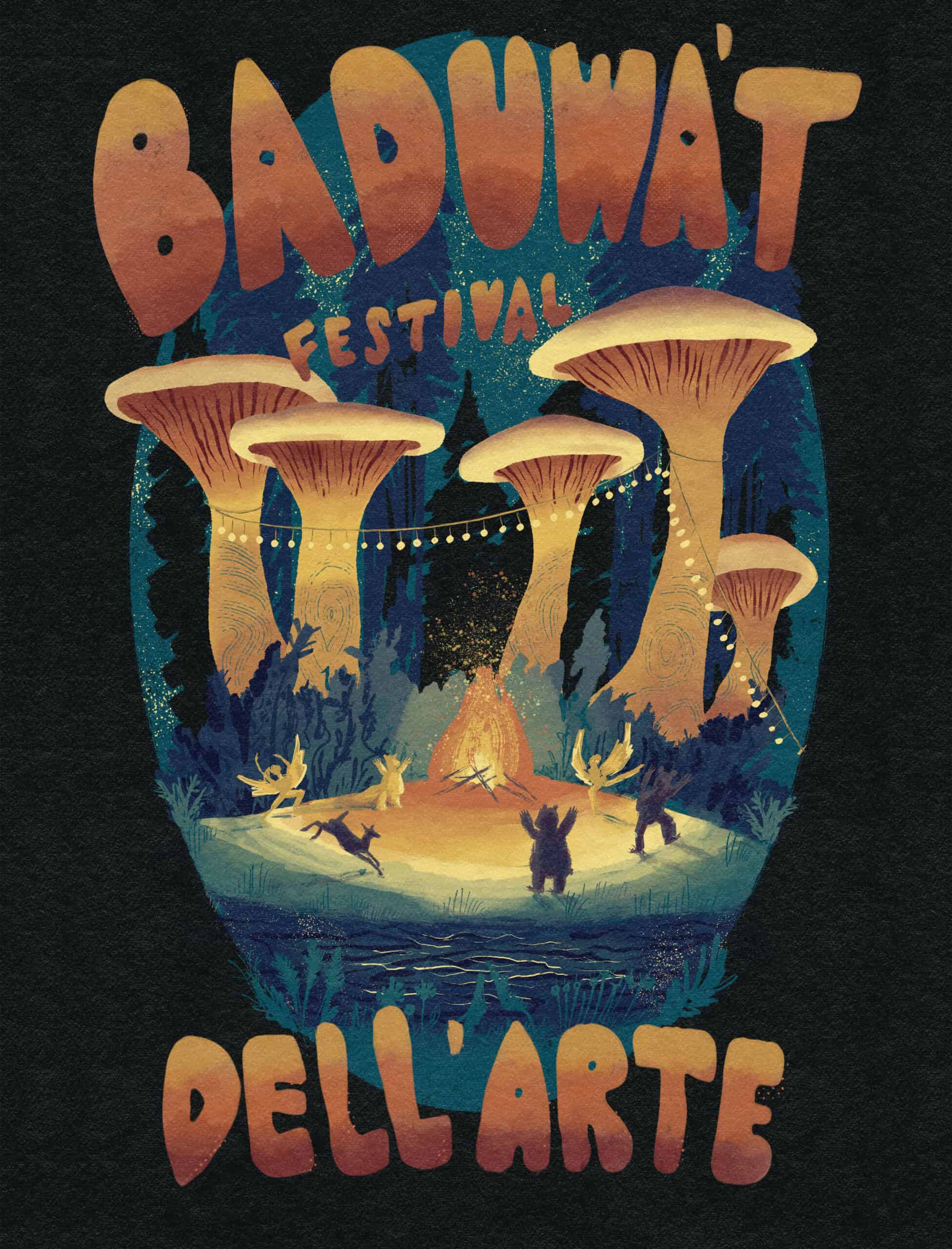 July 14-18 2021
2021 Baduwa't Festival: A Gathering of the People
Dell'Arte International and partners present a 5 day-and-night festival  - a culmination of performing arts, music, celebration and connectivity, held on the ancestral lands of the Wiyot Tribe.
The festival will be held in Dadiqhoughuk (Blue Lake) July 14-18 at Dell'Arte's spaces at 131 H. Street with COVID-19 safety measures in place. Attendance will be limited and festival-goers are encouraged to purchase tickets in advance as much as possible.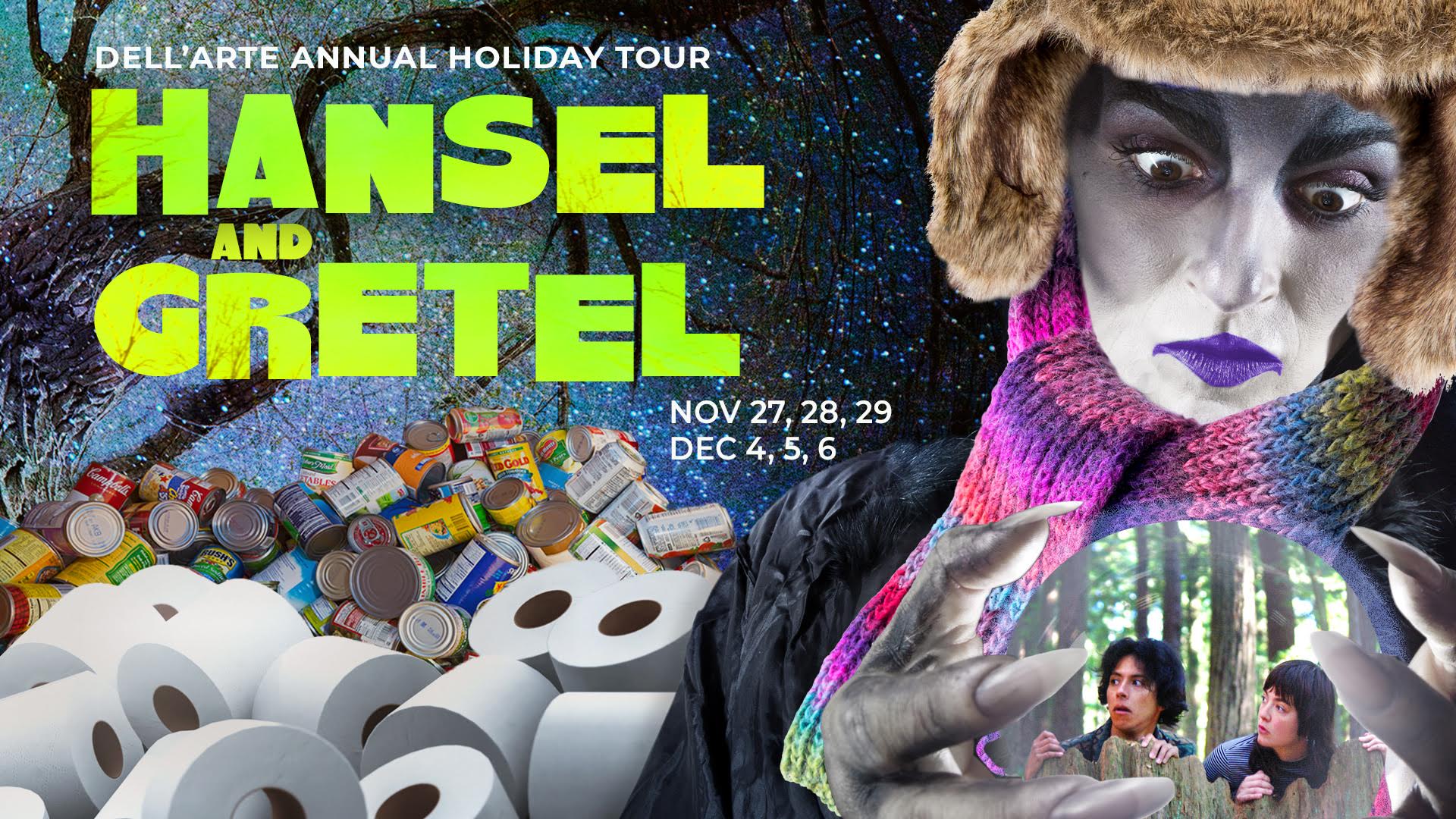 November 27, 28 & 29 December 4, 5 & 6
Hansel and Gretel
Dell'Arte's Annual Holiday Touring Show
The Dell'Arte Company's annual Holiday Show tour, now in its 40th year, will not take a break due to the worldwide pandemic. Instead audiences are invited to usher in the festive season with an adaptation of "Hansel and Gretel," which will be available through the comfort of their home and devices. 
Crafted for children and families in a way that is accessible, safe and free, this timeless tale will be told through Dell'Arte's unique comic, physical performance lens. Traditionally performed at various schools, theatres, community centers and other spaces throughout the North Coast, performances will instead be streamed through social media and aired on local PBS affiliate KEET-TV.
"At this moment, where crises ­­– from a pandemic to a movement for social and racial justice, to struggling businesses all converge – it is our intent to offer an experience of joy and possibility to the community," said Dell'Arte Producing Artistic Director Michael Fields. "And in this enduring tale, written in a time of global hardship, it is the children who are the wise ones."
Adapted from the Brothers Grimm classic fable, "Hansel and Gretel" includes Dell'Arte's trademark physical performance style as well as original music. Fields is the director, Dell'Arte Faculty Member Carlos Gallegos is assistant director, and the third-year MFA students will perform the show.
Dell'Arte International