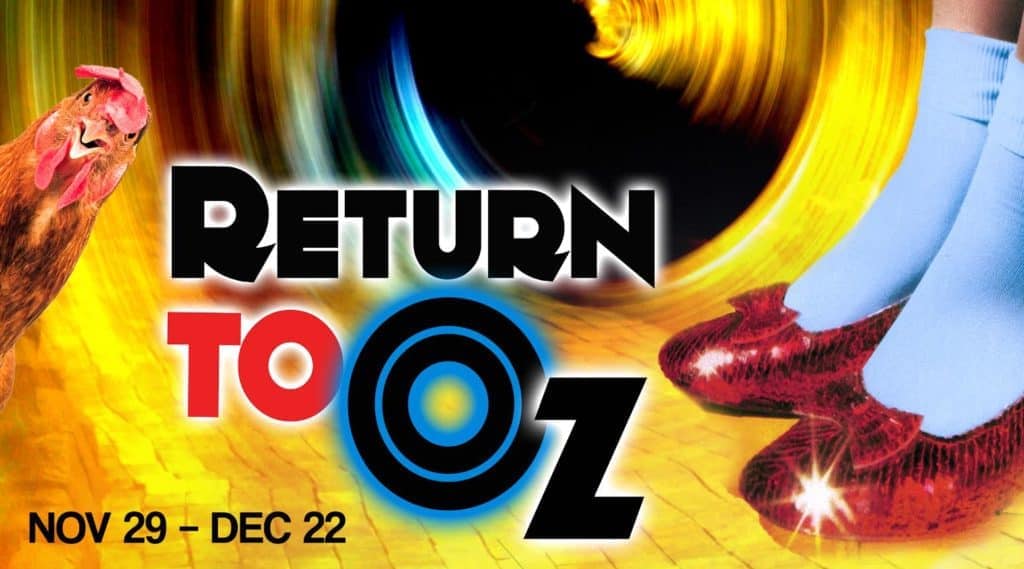 Holiday Show – Return to Oz
Nov. 29 – Dec. 22, 2019
Welcome to the Dell'Arte Company's annual Holiday Show tour! Now in its 39th year, we're ushering in the festive season with an adaptation of L. Frank Baum's The Wonderful Wizard of Oz.
A few years after her visit, Dorothy returns to Oz to discover that the land she loves is in ruins.
She must harness her wits, courage, and the power of her imagination to thwart the unstoppable Nome King who now wears the red ruby slippers.
Accompanied by her old friend the Scarecrow and a sassy chicken named Billina, the friends embark on an adventure to save the Tin Man, the Lion, and all that is beautiful in Oz before it's too late.
Harnessing our trademark physical-comic performance style, this Holiday Show will play for more than 7,000 attendees in Humboldt, Mendocino
and Del Norte counties – for free – from Thanksgiving to Christmas. This is family theatre at its best.
The schedule is as follows:
Friday, November 29, and Saturday, November 30, 7:30 p.m. – at the Dell'Arte International Carlo Theatre – FREE
Sunday, December 1, 2 p.m. – at the Dell'Arte International Carlo Theatre – FREE
Tuesday, December 3, 7 p.m. – at the Winema Theatre in Scotia – FREE
Saturday, December 7, 7:30 p.m. – at the Eureka Theatre – FREE
Sunday, December 8, 7 p.m. – at Lorna Byrne Middle School – FREE
Monday, December 9, 7:30 p.m. – at the Crescent Elk Auditorium in Crescent City – FREE
Wednesday, December 11, 5 p.m. – at Orick School – FREE
Saturday, December 14, 7 p.m. – Trinidad Elementary – FREE
Sunday, December 15, 3 p.m. – at the Yurok Tribal Headquarters in Klamath – FREE
Monday, December 16, 7:30 p.m. – at the HSU John Van Duzer Theatre – FREE
Thursday, December 19, 7:30 p.m. – at the Dell'Arte International Carlo Theatre – $12 general, $10 students and seniors (65 and older), $8 children (12 and under)
Friday, December 20, 7:30 p.m. – at the Dell'Arte International Carlo Theatre – $12 general, $10 students and seniors (65 and older), $8 children (12 and under)
Saturday, December 21, 2 p.m. and 7:30 p.m. – at the Dell'Arte International Carlo Theatre – $12 general, $10 students and seniors (65 and older), $8 children (12 and under)
Sunday, December 22, 2 p.m. – at the Dell'Arte International Carlo Theatre – $12 general, $10 students and seniors (65 and older), $8 children (12 and under)
Dell'Arte thanks the following 2019 sponsors for their generous support:
Dell'Arte International