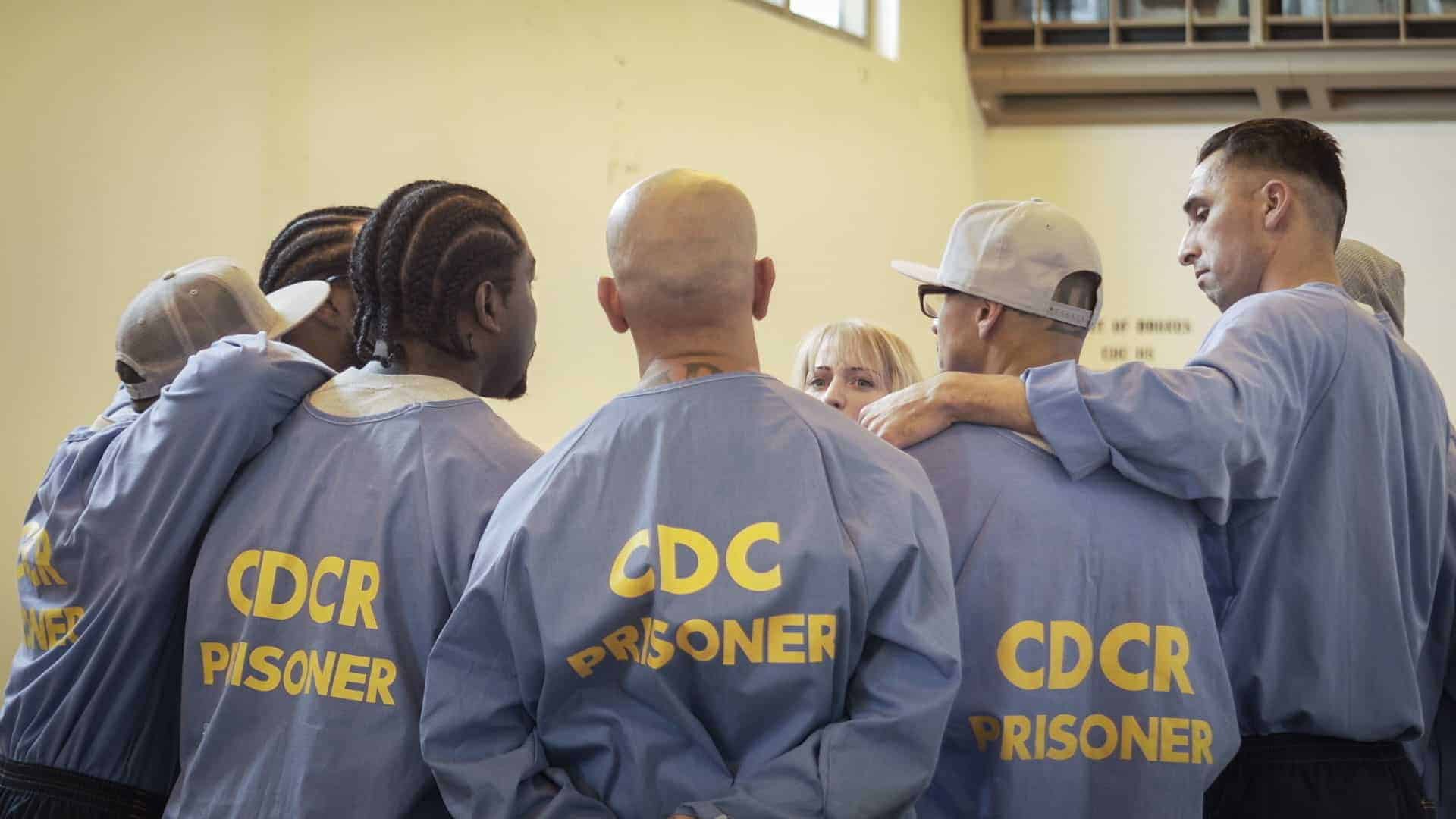 PRISON ARTS PROGRAM
---
---
Dell'Arte in partnership with The William James Association
For questions, inquiries, and to participate on our returned citizens committee, please contact Program Director Janessa Johnsrude at janessa@dellarte.com
In partnership with the non-profit William James Association, Dell'Arte offers weekly ensemble theatre classes at Pelican Bay State Prison on all General Population yards throughout the year. Dell'Arte is now in it's fifth year of engagement at the prison which is supported by the California's Arts in Corrections Program. This program brings professional artists into prisons to teach their art form to incarcerated people in support of their rehabilitation and education. Through newly established exchanges with Dell'Arte's MFA students and teaching from invited guest instructors/Dell'Arte Faculty, our incarcerated students have worked with artists from India, Mexico, Israel, Zimbabwe, Sri Lanka, Canada, Guatemala, Spain, England, and the United States. 
Due to the pandemic, in-person classes have paused and the William James Association is engaging with teaching artists to bring classes into facilities via mail. Though we are deeply saddened we cannot offer in-person programming for now, this format allows us the unique opportunity to collaborate with artists from around the world in new and inventive ways.  We are excited to offer teachings this year from our roster of instructors: Tafadzwa Bob Mutumbi from Zimbabwe, Ibu Ayu Putu Sri Juniari from Indonesia, Dell'Arte faculty member Carlos Gallegos from Ecuador, and California-based Playwrights Project. Canadian artist and Dell'Arte faculty member Janessa Johnsrude will continue to work with the program, collaborating with our students to discover content they want to study and facilitate these artists' engagement with our students at Pelican Bay.
Students in the Arts in Corrections Theatre Classes at Pelican Bay work in ensemble to explore the creative act of generating theatre through the study of storytelling, character, improvisation, and original play development. Many students have graduated from the program and continue classes as mentors, as courses commence every spring and fall. As programming develops, various ensembles have created original performances for invited public audiences. Several former students that have been released also serve on the Returned Citizens Committee, acting as advisors to the program.
In 2013, the California Arts Council was able to re-establish the seminal  Arts in Corrections Program, founded William James Association in the late 1970s.  
"Arts in Corrections is a partnership between the California Department of Corrections and Rehabilitation (CDCR) and the California Arts Council designed to have a positive impact on the social and emotional well-being of people experiencing incarceration, promoting healing and interpersonal transformation both inside and outside of the boundaries of their institutions." 
 -  California Arts in Corrections Program Website
In 2016, Dell'Arte's Janessa Johnsrude & Zuzka Sabata, in partnership with the William James Association, founded Dell'Arte's Prison Arts Program. Along with Dell'Arte faculty, they began to work on establishing programming in the spring of 2015 with a desire to provide theatre classes for individuals incarcerated at Pelican Bay State Prison, one of California's only Maximum Security facilities located just 80 miles north of Blue Lake, in Crescent City. In March 2016, They began engagement inside the prison with one class on the Level 1, or Minimum Security with just four students. Today the program serves 45 students in weekly classes which commence in certificate awards every spring and fall and has reached hundreds of incarcerated individuals.
In 2018, the first theatre exchange event between Dell'Arte MFA students and Pelican Bay Theatre students took place when Dell'Arte brought their annual Holiday Show inside the prison. Subsequent exchanges with Dell'Arte MFA students and Dell'Arte students on the inside have taken place and serve to foster dialogue, artistic sharing, and community building in the world of ensemble creation – breaking down barriers and fostering collectivity.
In December 2019, Dell'Arte in partnership with fellow teaching artists, facilitated the first-ever Arts in Corrections Gala at Pelican Bay State prison in B-Yard, which saw all the Arts in Corrections classes gather in an event to celebrate the incarcerated artists and welcome in a public audience. 
Photos by Peter Merts, Collin Smith, Malcolm DeSoto, and courtesy of CDCR
Dell'Arte International