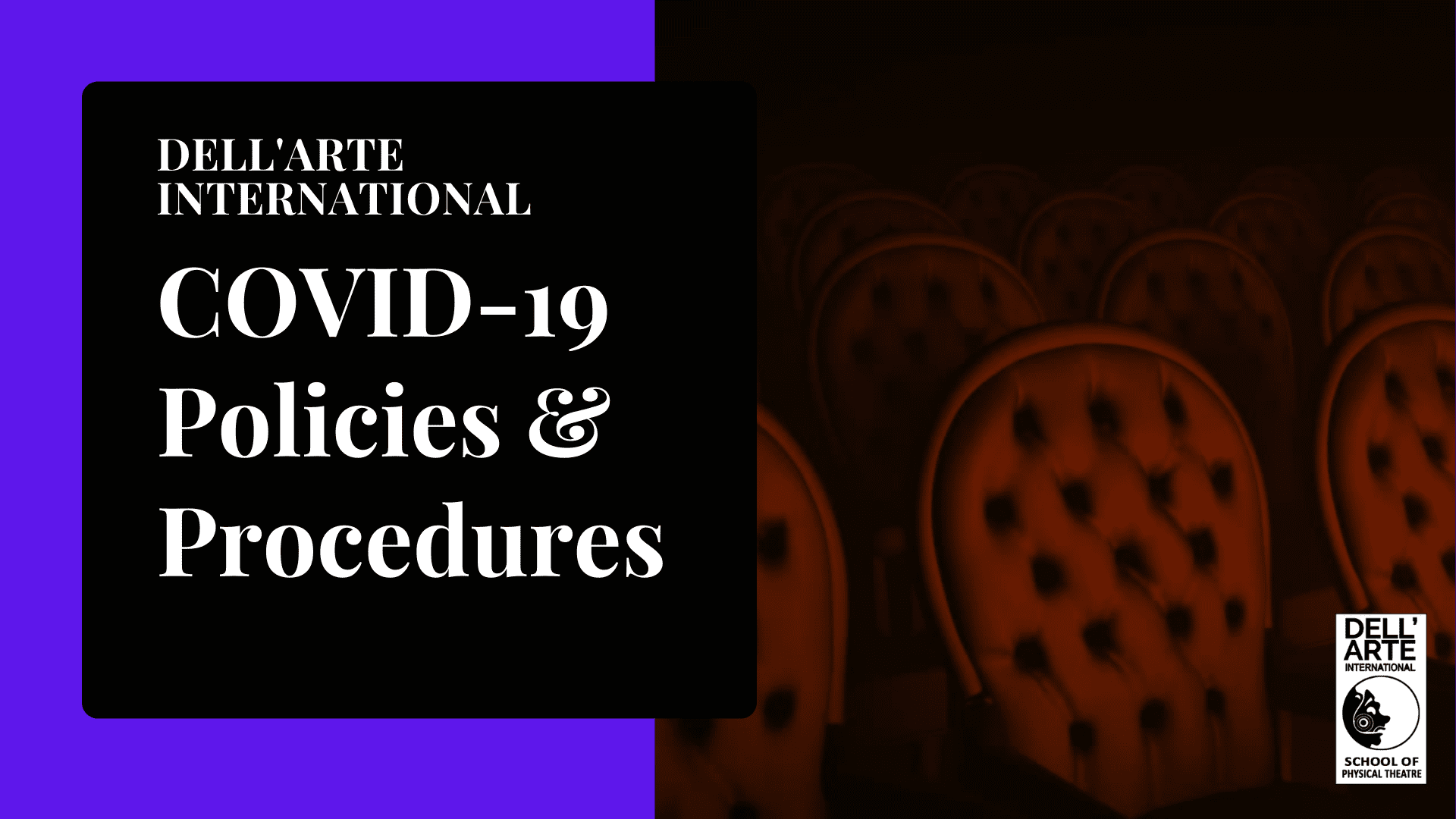 Dell'Arte International COVID Policies & Procedures
We are excited to welcome you back to the Carlo Theater.  As of September 20th 2022, our audience policy strongly recommend to wear a mask for our indoor events .
Ticket purchasers are responsible for informing and providing this Audience Policy to their guests or other attendees for whom they are providing tickets. Anyone not abiding by these health and safety protocols may be denied entry or asked to leave the facility.
We recognize that public health guidelines may change in the coming months and ask for your patience as we make any necessary safety adjustments.  All policies are subject to change at Dell'Arte's sole discretion and without notice. 
Dell'Arte International staff and artists are subject to a mandatory vaccination policy.
Performers will be tested frequently and unmasked during each performance.
Ticket Policy: If you are feeling unwell or experiencing symptoms of COVID-19, have been exposed to anyone with COVID-19 within 14 days of your visit, or have been instructed to self-isolate within the last ten days, we ask that you stay home and contact us, when possible, to discuss ticket refund or exchange options.  Click here!
Thank you so much. We can't wait to welcome you back Dell'Arte International!
Seating for all performances in the Carlo Theater's spaces will be full capacity. Meaning that seats have no physical distancing, and people will sit directly next to others.
Face masks will be  strongly recommended for indoor events, including while watching a performance in our venues.
The Dell'Arte Box Office will open at an hour before the show on dates when there are evening-only performances and one hour before matinee performances until further notice. We strongly encourage you to purchase tickets online or by phone (707) 668-5663.  Ticket delivery options will be limited to Digital Tickets and Hold at Box Office for pick up the day of your performance.
Learn more about the 21-22 Season Refund, Exchange, and Ticket Donation policies.
Our lobby and box office will open at least one hour before all performances when there are only evening performances and one hour before matinee performances for ticket pickup, future performance sales, or general questions. Please have proof of vaccination (Booster are not required) ,and a photo I.D. at your arrival for inspection by our staff.
OUR PLANS TO PROMOTE HEALTH & SAFETY
At least once daily, high-touch areas will be thoroughly sanitized. This will include:
Cleaning of all frequently touched surfaces and sanitizing of all bathrooms.

Hand sanitizer stations will be available.

Attendants regularly clean and sanitize restrooms.
Dell'Arte International