---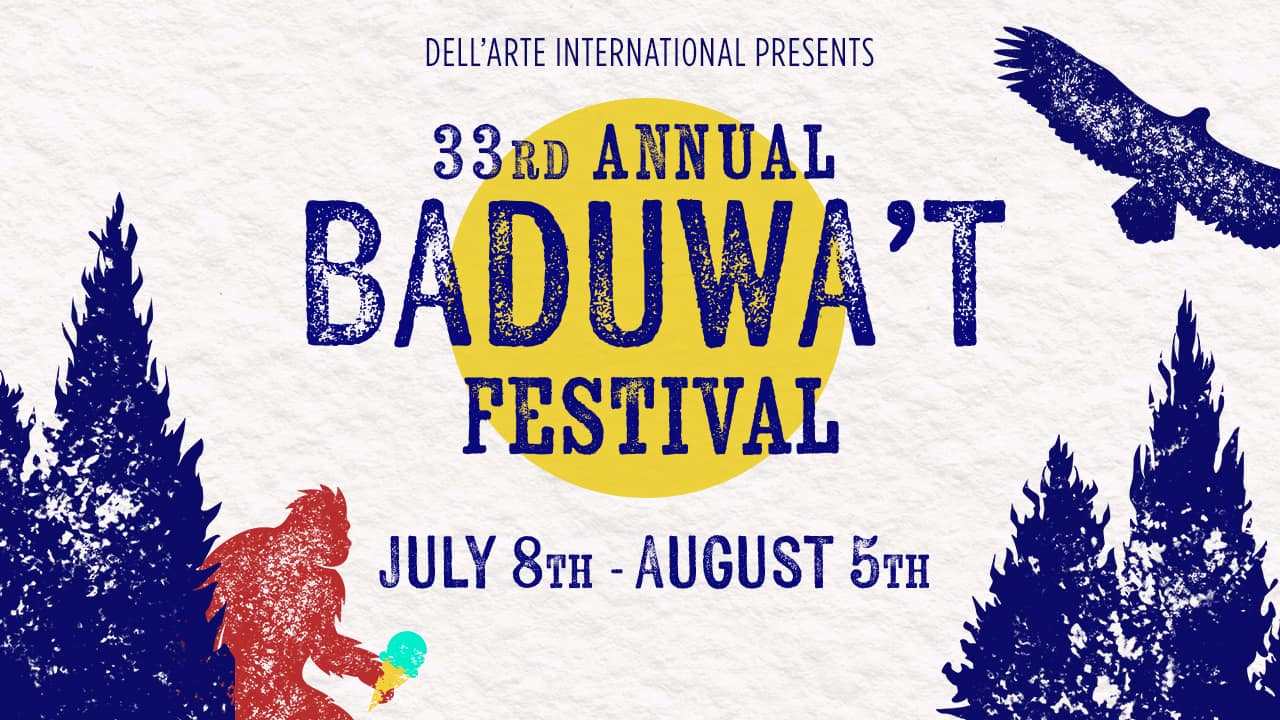 ---
The Dell'Arte Inaugural Guild Presents:
Baduwa't Festival
A Gathering of the People
Formerly known as the Mad River Festival, the Baduwa't Festival is a culmination of performing arts, music, celebration and connectivity, held on the ancestral lands of the Wiyot Tribe. In Soulatluk, the Wiyot language, Baduwa't is the word for Mad River. The festival name change was approved by Wiyot leaders in Spring 2021 and Dell'Arte is honored to support the work of the Wiyot Tribe to revitalize the language by using the original name of the river for the festival name.
---
---
---
2023 Festival Overview
Returning for its 33rd season, Dell'Arte International presents the Baduwa't Festival, its annual 4-week summer celebration of theatre, family friendly entertainment, music, and performance. This year marks the first foray of a 'new-gen' Dell'Arte Company in opening a new chapter at Dell'Arte International, which has been serving Humboldt County for nearly five-decades with fresh ensemble created physical "theater of place," community engagement programs, and live performance.

This year, Dell'Arte's festival features Mad Labs, a company showcase and mini-fest of experimental and original physical theater. We'll also have Fun Under the Blue Lake Sun, a backyard carnival of games, a mask booth, a silent auction, local vendors, food trucks, and music—presented in cooperation with the City of Blue Lake Parks & Recreation. The Humboldt FolkLife Festival returns for a jam-packed week of live music presented by Humboldt Folk Life Society. In the Carlo you can also see our first Drag Cabaret, produced in collaboration with Club Triangle. Finally, we'll have the Dell'Arte Presents Series featuring two back-to-back touring shows: String & Shadow Puppet Theater's Ship of Fools: A Giant Puppet Odyssey (Rooney Amphitheater) and LuDu Ensemble's Irvinville (Carlo Theater). The Festival opens with a screening of the Dell'Arte Company's 1980 play Whiteman Meets Bigfoot in the Carlo Theater and will rollick through the month of July.
Hope to see you there!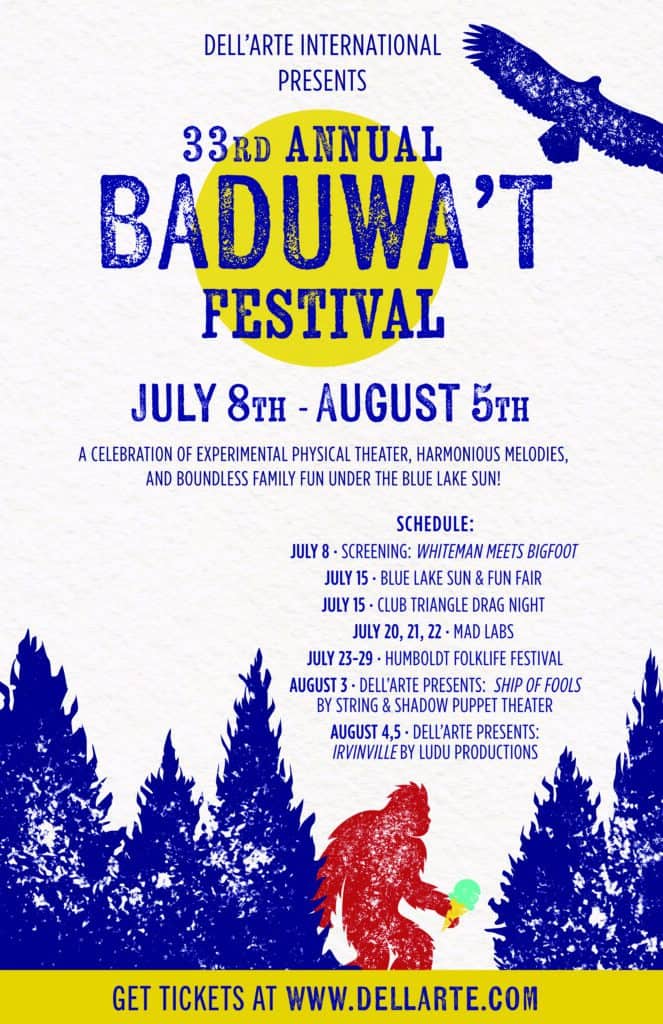 July 8 – Screening: Whiteman Meets Bigfoot  6pm
Saturday night in the Carlo Theater, Dell'Arte screens a throwback of the Dell'Arte Company's 1980 production of Whiteman Meets Bigfoot. A fun talkback with cast members Michael Fields and Donald Forrest follows the show. Content advisory: strong and/or dated language, brief nudity, depictions of sex, gunshots
July 15 – Blue Lake Sun & Fun Fair  12–5pm
Putting a Dell'Arte spin on the family fair, we invite families and kids of all ages (even the adult-kids too) to our backyard for an enjoyable afternoon of kid-friendly activities & games, bounce housing, kid friendly mask making booth, pie throwing, and a silent auction fundraiser, food trucks and art vendors, and music.
July 15 – Club Triangle Drag Cabaret   8pm
Saturday night in the Carlo Theater, Dell'Arte welcomes to its stages an evening of local Drag performances to celebrate Pride, presented in partnership with Club Triangle. This show is for audiences 18 and over.
July 20, 21, 22 – Mad Labs  8pm
Mad Labs celebrates physically based new experimental works in theatre and performance created by Dell'Arte resident artists, alumni, and community artists. This is a week is jam packed with multiple new works and artists that vary in length, style, genre, and subject that allow audiences the occasion to experience a range of performance and artistry that reveals the extraordinary and embraces a fresh perspective on ourselves and the world. NOTE: Due to performer illness, the Thursday July 20th show has been canceled.
GET TICKETS
July 23-29 – Humboldt Folklife Festival   Click here for times
Dell'Arte hosts the Humboldt Folklife Festival. This year, HFS has a full week to show off all the amazingly talented musicians who make music here. And they're doing some new things. On July 23rd from 1-5p at Dell'Arte, HFS will be hosting THE FOLK SCHOOL, a full day of free music workshops to encourage even more people to make playing music a regular part of their lives. We plan to have classes on bluegrass guitar, banjo, ukulele, percussion and more!
GET TICKETS
August 3 – Dell'Arte Presents: Ship of Fools by String & Shadow Puppet Theater  6:30pm
 String and Shadow is a troupe of multi-disciplinary performance artists based in Olympia, Washington that create giant puppet shows - full of dancing cardboard, pop-up sets, mask, and various circus arts - set to live, original music. Ship of Fools: A Giant Puppet Odyssey is perfect for all ages and outdoors at Dell'Arte's Rooney Theater.  
GET TICKETS
August 4,5 – Dell'Arte Presents:  Irvinville by LuDu Productions  8pm
LuDu Productions brings Irvinville, a tragicomedy exploring America's penchant for self-destruction, even in the glaring face of catastrophe. It is the story of Jaxson Sallow, a decrepit old boy, and the only person left to maintain the archaic machinery which powered the once great town. This minimalist theatrical production featuring only two performers, bounding between a dozen characters without a prop, set, costumes, or any other technical elements will run for two nights in the Carlo Theater. 
GET TICKETS
Dell'Arte thanks the following past Baduwa't Festival sponsors for their generous support:
Dell'Arte International