Dell'Arte Abroad: BALI
Bali – an extraordinary island where creativity is ordinary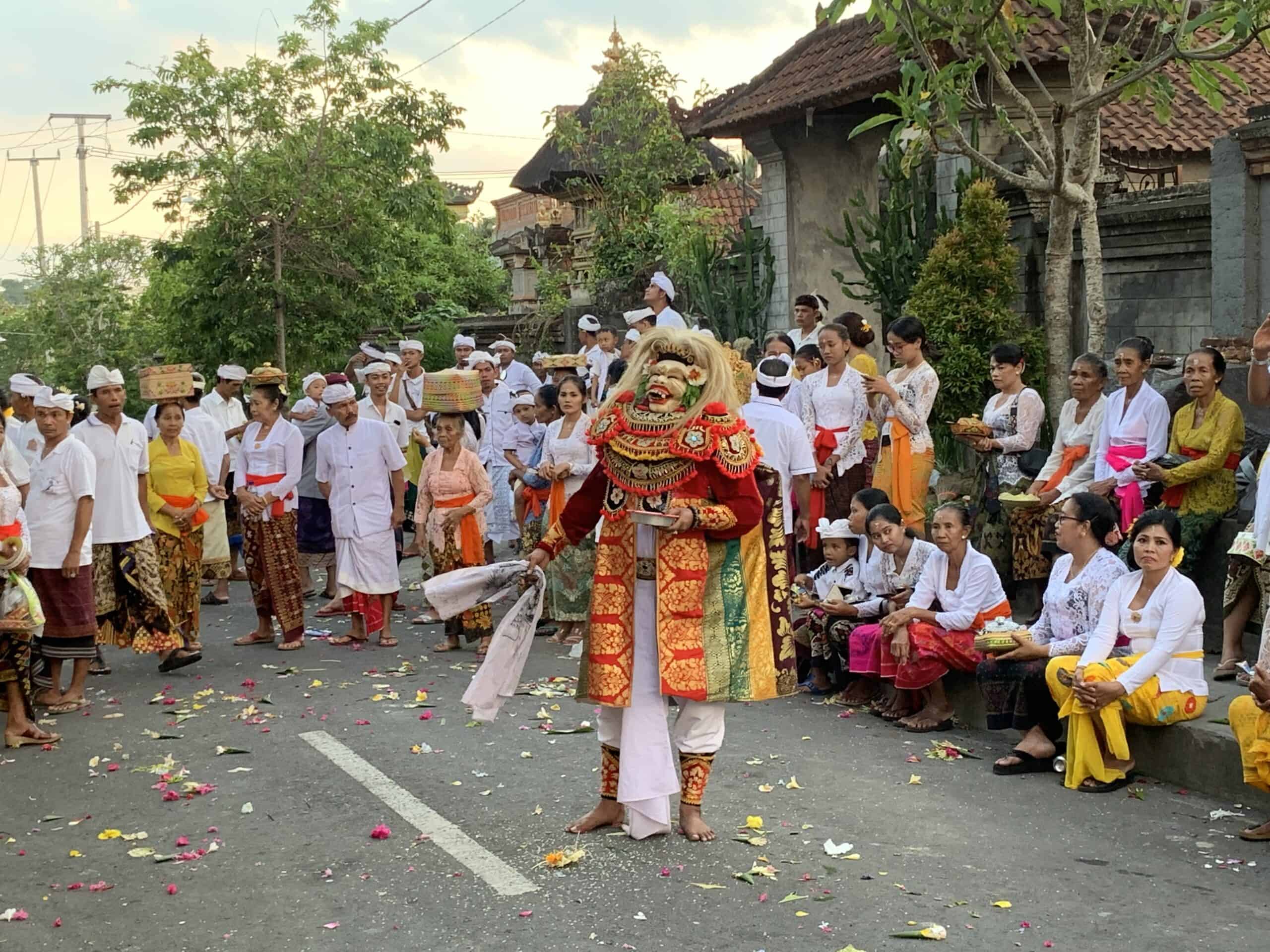 The quality of our educational programming and the safety of our participants and teachers is important to Dell'Arte. As we deal with the curveballs of the pandemic, we are adjusting and realigning to assure we stick to our values. We have made the difficult decision to postpone our annual Dell'Arte Abroad: Bali trip (which was rescheduled for June 2022) until 2023 when we hope to resume our yearly intensive study of Balinese performing arts on this incredible island. We are taking this time to reinvision aspects of the program and further develop program offerings with our partners in Bali. The 2023 dates are undecided, but we hope to get those in place in the coming months. We are hopeful and excited for the future of this unique and incredible study abroad experience and look forward to the time when we can return. If you have any questions or wish to be added to a contact list for updates, please contact DA Abroad: Bali Program Director, Janessa Johnsrude at
janessa@dellarte.com
.
For information on a project that took place between our Balinese faculty and our Prison Arts Theatre Program during the COVID-19 shutdown, please visit (link to mailchimp). If you have any questions, please direct them to DA Abroad: Bali Program Director, Janessa Johnsrude at
janessa@dellarte.com
.
Due to international travel restrictions and safety measures, our trip to Bali this spring has been postponed. We still invite you to inquire about the program by contacting Janessa, the Bali Program Associate Director, at janessa@dellarte.com. You can write to her to be put on a list which will receive updates about when our next trip will be!
---
Art serves the community of Bali, its religious practices, its economy and is inseparable from everyday living. This program is designed for those who want to participate in the family and ceremonial life of outstanding Balinese master teachers, during an intensive study month. Our Study Abroad: Bali program is open to actors, musicians, designers, dancers, mask-makers, directors, teachers, and anyone who is interested in the Balinese culture and performing arts.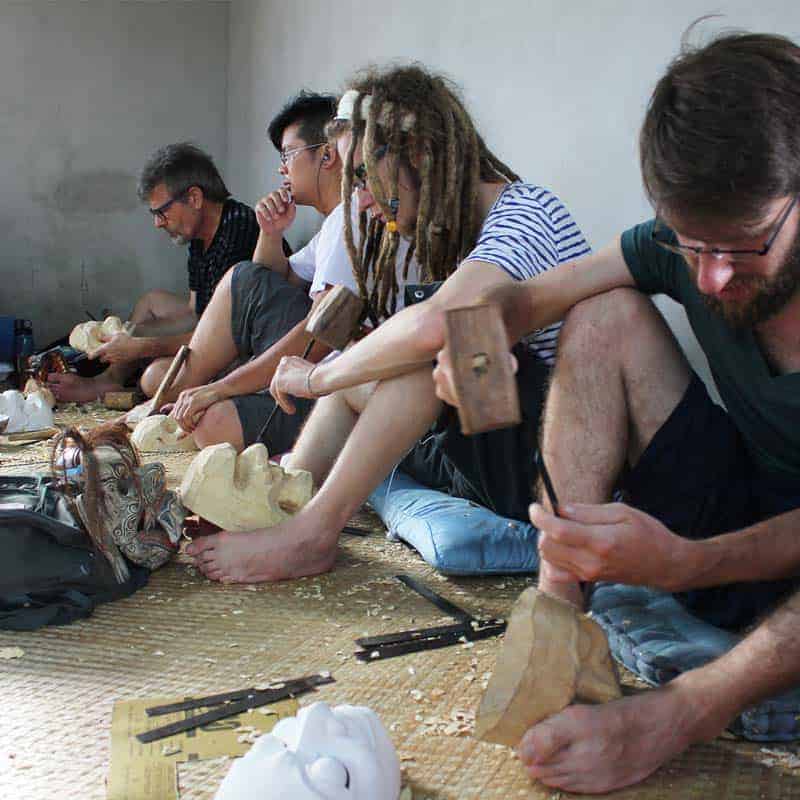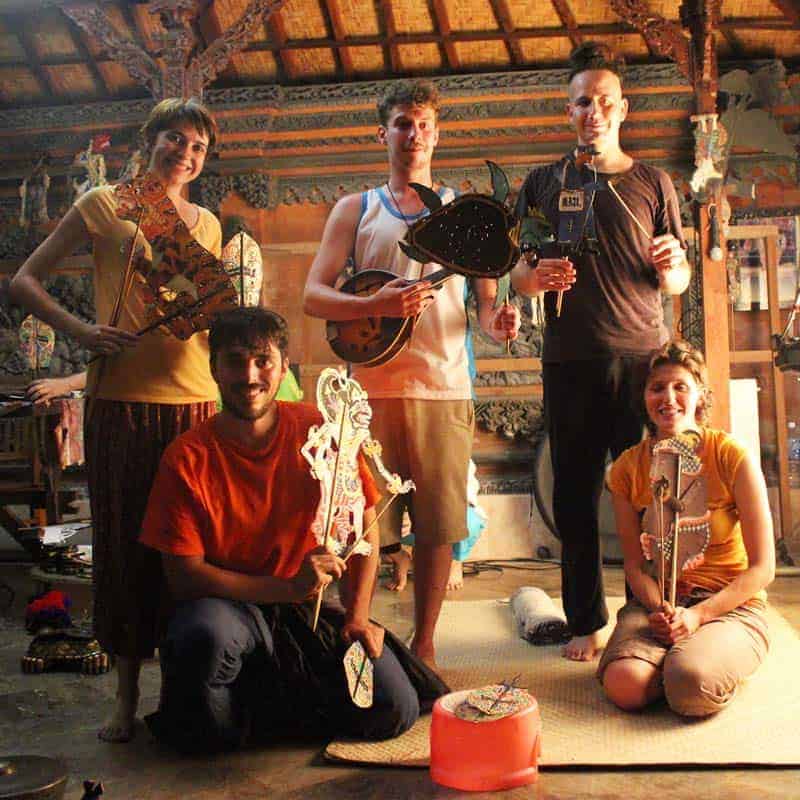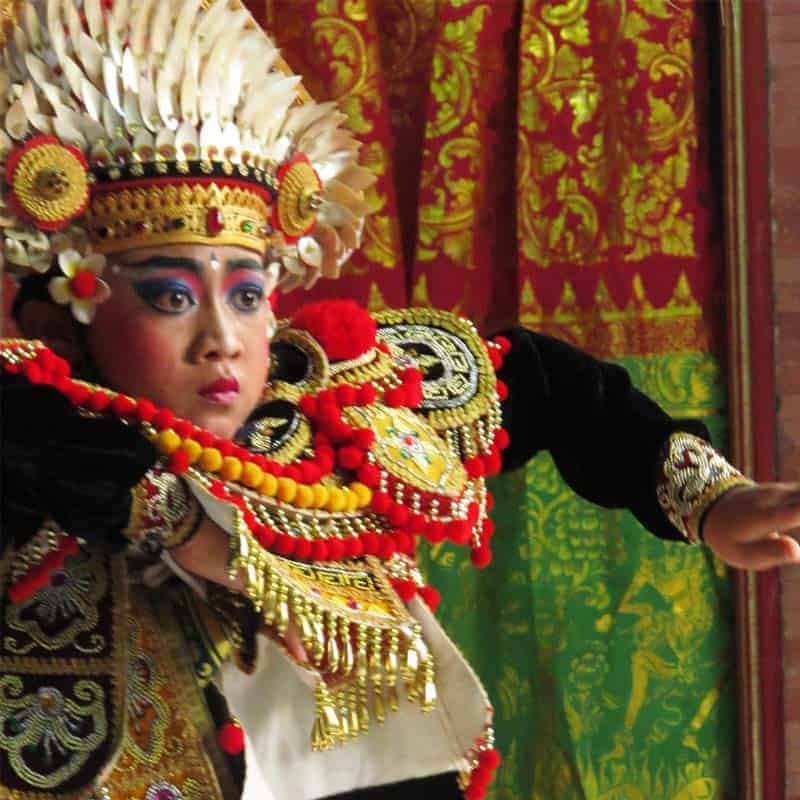 THE BALI EXPERIENCE
The program begins with a traditional Balinese dinner, followed by three days of orientation to the language, customs, and ceremonies of Bali, as well as informal meetings with Balinese teachers to observe their work. Orientation will include a symposium on masks with famous carver I. B. Anom, visits to the studios of several mask carvers and puppet makers, and attendance at the famous kecak, or monkey-chant dance, by firelight. During the three and a half weeks of formal study, classes meet five days a week. Sometimes our study will take place in a classroom setting, sometimes outdoors, and most often in its traditional setting at village and temple ceremonies. Participants will be joined by DAI's third year MFA class.
STUDY AND RECREATIONAL OPPORTUNITIES
In addition to their core area of study, all students will study kecak, the rhythmic vocal chant, as well as participate in daily morning warmups, plus symposiums on the links between Balinese and western mask performance traditions.
All along there will be time for recreation such as mountain hiking, beaches, scuba, nightlife and shopping, including guidance on how to buy Balinese crafts. Massage and revitalizing body treatments are available at extremely low cost.
CULTURAL IMMERSION
Due to the sacred nature of most Balinese arts and the complete intertwining of daily life with ritual, this program can be an opportunity to deepen an internal connection to your own artistic practice, as well as to take inspiration for creative projects. In past years we have been invited to both public and private ceremonies–weddings, cremations, blessings of masks and puppets, temple anniversaries, and coming-of-age ceremonies. Respectful attendance at their ceremonies is welcomed by the Balinese people, whose religion is Hindu with Buddhist influences. Since the program's inception in 1996 we have had participants from all over the world including Norway, England, Korea, Canada, Mexico City, Spain, Sweden, Holland, India, USA and others.
Dell'Arte International