Dell'Arte Abroad: BALI
Bali – an extraordinary island where creativity is ordinary
MAY 22 - JUNE 15 2023
Art serves the community of Bali, its religious practices, its economy and is inseparable from everyday living. This program is designed for those who want to participate in the family and ceremonial life of outstanding Balinese master teachers, during an intensive study month. The Dell'Arte Abroad: Bali program is open to actors, musicians, designers, dancers, mask-makers, directors, teachers, and anyone who is interested in the Balinese culture and performing arts. For nearly 20 years, Dell'Arte's Balinese faculty have been leading participants through a truly unique experience, authentically exploring Balinese performing arts in their homes and communities. Our Bali program is like no other in terms of our long-standing relationship as a teaching collective.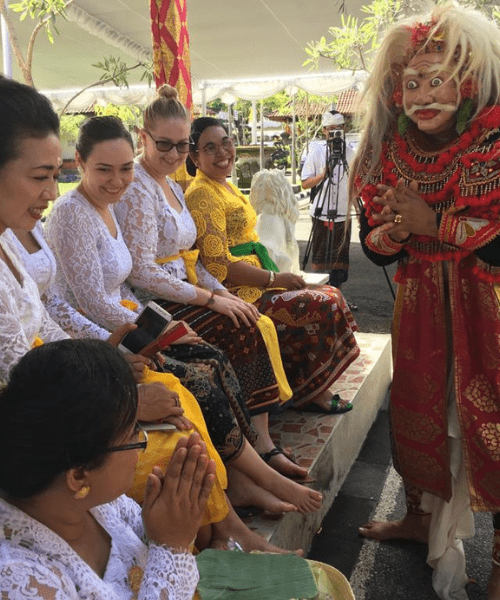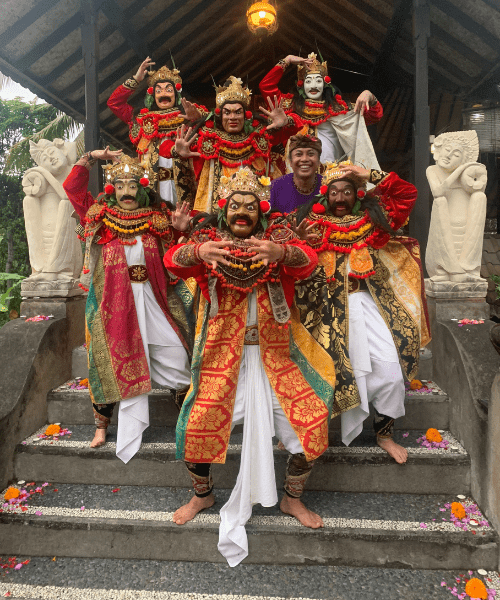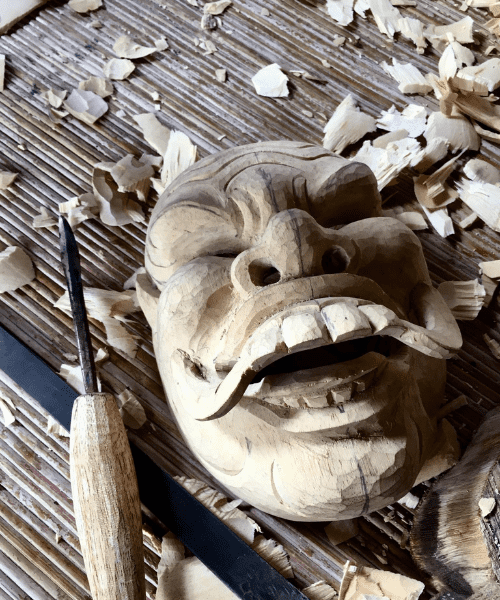 THE BALI EXPERIENCE
You will be welcomed at our beautiful accommodations just outside of Ubud after you arrive. The program begins with a traditional Balinese dinner, followed by three days of orientation to the language, customs, and ceremonies of Bali, as well as informal meetings with Balinese teachers to observe their work. Our program Co-Director will introduce the concept of Canang Sari (offerings) and teach participants how to participate in this aspect of Balinese life leading classes on how to make one of the many intricate floral offerings yourself. Orientation will also include a symposium on masks at the home of I.B Anom, visits to the studios of several mask carvers and puppet makers, and attendance at the famous kecak, or monkey-chant dance, by firelight. During the three and a half weeks of formal study, classes meet five days a week. Sometimes our study will take place in a classroom setting, sometimes outdoors, and most often in its traditional setting at village and temple ceremonies.
STUDY AND RECREATIONAL OPPORTUNITIES
In addition to their core area of study, all students are invited to participate in daily morning warm-ups and classes led by both invited guests and the program leaders. The morning classes will focus on western mask performance, community-based arts education and ensemble theatrical practices. Organized symposiums on the links between Balinese and western mask performance traditions will take place. We will also travel to the village of Sukawati for an intensive on Wayang Kulit (shadow puppetry) led by a master Dalang (puppet master). Wayang kulit is the traditional art of storytelling through shadow puppets, performed by firelight. The puppet master is a combination of priest, storyteller, therapist, actor, and improviser, who manipulates and voices dozens of puppets in one play.
All along there will be time for recreation such as mountain hiking, beaches, scuba, nightlife and shopping for traditional Balinese crafts. Massage and revitalizing body treatments are available at extremely low cost. Our program leaders are happy to assist you in making plans to visit other areas of the island and arrange unique excursions for you with their breadth of knowledge and experience. 
We know you won't want to leave, but we also will have a closing celebration with our teachers and a final dinner to send participants off with a certificate of completion from Dell'Arte International School of Physical Theatre and memories to last a lifetime. 
CULTURAL IMMERSION
Due to the sacred nature of most Balinese arts and the complete intertwining of daily life with ritual, this program can be an opportunity to deepen an internal connection to your own artistic practice, as well as to take inspiration for creative projects. In past years we have been invited to both public and private ceremonies–weddings, cremations, blessings of masks and puppets, temple anniversaries, and coming-of-age ceremonies. 
Respectful attendance at their ceremonies is welcomed by the Balinese people, whose religion is Hindu with Buddhist influences. Since the program's inception in 1996, we have participants from all over the world including Norway, England, Korea, Canada, Mexico City, Spain, Sweden, Holland, India, USA and others.
"The Bali program is the secret door to the magic world of Balinese theatre. If you have found it - don´t hesitate to step inside!"-
Jens Kloft
"The  Bali session was an amazing opportunity to work firsthand with lifelong master artists in traditional craft and dance forms of Bali. I enjoyed the beautiful setting, while eating great food and experiencing Balinese culture while expanding my craft as an artist." -

Kathryn Cesarz
Dell'Arte International