Work With Us
Announcing Auditions for Dell'Arte's 41st Annual Holiday Show
Audition dates: August 25th 7pm-9pm, August 27th 1pm-3pm, August 28th 11am-1pm
Callback audition: August 31st 7pm-9pm
Compensation (Non-AEA): $3000 for the entire project
Rehearsals: Sept 20th-Nov 23rd (evening and weekend hours)
Show Run: Nov 25th-Dec 18th (approx. 12 shows total w/ 1 possible overnight out of town)
Working Title: The Return of the Light (A devised adaptation of solstice stories)
Description: Stories about tricksters, transformation, and the turning of the season.
As the darkest day of the year approaches, stories emerge across cultures that surround the light, naming how it came to be, keeping it burning, and yearning for its return. This show will be a collage of stories from around the world exploring tales and myths of the winter solstice. The story/s that are told will be determined by the ensemble of actor-creators. We will explore what most resonates with the people that are in the room, what inspires them and connects with their heritage to create a solstice show that highlights the illuminating of the darkness. We will gather around the warmth of these stories and the light that draws everyone to them. In the tradition of the Dell'Arte Holiday show this piece will aim to bring hope and joy through theatre to rural communities during this winter season.
Artistic Leads: Julie Douglas (Ensemble Director) and Samantha Williams-Gray (Assistant Director)
We aim to cast 5 adult ensemble members for this project. We are committed to equity and inclusion. This is a devised piece in which we hope to have a diversity of voices. We encourage performers of all identities, ethnicities, orientations, gender identities and expressions, sizes, abilities, and ages to audition, especially those from the global majority and marginalized groups. All are welcome here.
Wearing a medical grade mask or face covering is mandatory regardless of position inside all Dell'Arte spaces, unless deemed otherwise by Faculty or Staff.
Proof of vaccination/booster is mandatory for employees and contractors with Dell'Arte International, Inc, unless deemed otherwise by Faculty or Staff.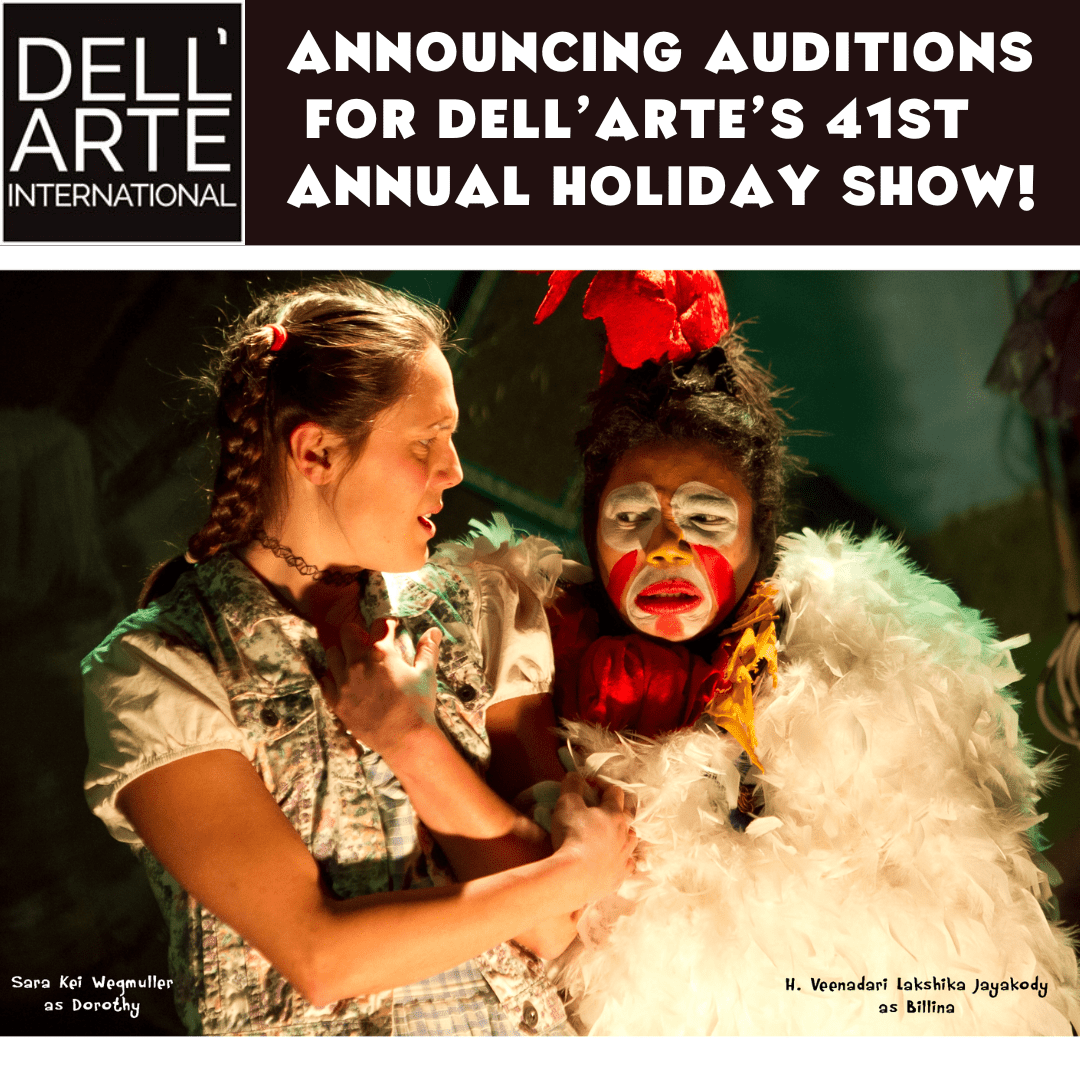 International in scope, rooted in our community on the ancestral and current homeland of the Wiyot People, and inspired by the unique rural landscape, Dell'Arte International explores ensemble-based theatre making, practice, and training: for ourselves, the world and the future.
Dell'Arte International School of Physical Theatre is pleased to announce the first year of the Diversity, Equity and Inclusion Faculty Hiring Initiative for its prominent and unique physical and ensemble-based theatre training program, the "Professional Training Program" (the PTP).
The Inclusion & Diversity Leadership Personnel Committee, Dell'Arte Alumni Collective, and Student Council Representatives, in partnership with Coaching Imperative, have commenced a coordinated effort to recruit, hire and retain candidates for the following full-time and part-time positions: 1) Faculty-Artists and 2) a Director for Dell'Arte's Professional Training Program.
Dell'Arte International seeks to establish an anti-racist, liberated, and embodied educational experience that supports students in their capacity as artists and as agents of societal and cultural change. By preparing students through an immersive, radical, and experiential curriculum, they will have the opportunity to explore and develop the artistic and social justice values they align with and become connected to DAI's regional and global community partners and networks. We welcome experienced teachers and instructors who will provide a grounding in both the core aspects of physical theatre practice, and other embodied practices that will help students develop essential professional and cultural competencies while gaining exposure to career opportunities and life skills that transcend the studio.
We seek professionals, teachers, who have diverse or global perspectives, knowledge, and experience of theatrical or performance traditions, techniques, disciplines, and approaches. Educators who possess critical knowledge and experience working with the global majority and culturally responsive programs are highly encouraged to apply.
Faculty and Program Director positions that are open include (but are not limited to) the following areas of expertise or knowledge:
Popular Theatrical Forms (Western and Non-Western; Traditional/Non-Traditional)

Queer Performance and Theatre 

Theatrical Devising and Collaborative Creation

Clown

Physical Acting

Play & Games; Improvisation

Embodied Voice (Singing, Musicality, Text, Dialect, Verse)

Directing (Stage/Stage Composition)

Playwriting/Dramaturgy/Storytelling

Mask making/fabricating and Performance

Dance & Movement (Latin or African Dance forms, corporeal mime, choreography, etc)

Somatic Practice and Mindfulness 

Acrobatics (Circus, Gymnastics, Martial Arts, Partner Acro)

Lecoq-based Theatre Principles and Practices

To apply, submit a completed application packet (Employment Application

, Cover Letter, Resume) to

Alyssa@dellarte.com with the subject line: Faculty Position OR via mail to:

Attn: HR Manager 
P.O. Box 816, Blue Lake, CA 95525
SUMMARY:
Dell'Arte International School of Physical Theatre (DAI) is in search of a full time, non-exempt Development
Director. In partnership with the Managing Director (MD), the Development Director will spearhead
development efforts as Dell'Arte International continues towards its promising future. As part of the collective
leadership of DAI, this position is responsible for primary Development functions for the organization. An
evolving position in the organization, the Development Director will have the opportunity to expand and build
development area functions. Along with all other staff and Board members, the Development Director is
responsible to advance the Purpose, Vision, and Values of Dell'Arte.
Dell'Arte International's is an accredited private and post-secondary nonprofit school that is International in scope,
rooted in the community on the unceded and current ancestral homeland of the Wiyot People, and inspired by the
unique rural landscape. The Organization's purpose is to explore ensemble-based theatre making, practice, and
training for ourselves, the world, and the future. Together, our vision is to provide an ensemble experience of place
in this present time for a radical future by embodying the concepts of: Critical Inquiry & Praxis, Place & Space,
Community, Creative Justice, Decolonized Knowledge & Power, Trust, and Journey. The program provides a
grounding in physical theatre practice core aspects; students will also gain essential professional and cultural
competencies while gaining exposure to career opportunities and life skills that transcend the studio. From a
powerful and positive growth-mindset, we center students in everything we do by working to provide a learning
environment that is both supportive and challenging.
In addition to being a world-renowned international center for performance, training, and research for 50 years,
Dell'Arte has been active in community building, service, education, community-based productions, classes,
benefits, and many service-related activities. Dell'Arte students and staff are active in the community, engaging
around the arts in a variety of ways. This translates into a variety of engagements throughout the school year and
summer events including regional partnerships with the Wiyot Tribe, Pelican Bay State Prison, local schools and
youth, student performances, festival events, and more.
Position Description:
Focus Area - Development: Administration and Planning
Purpose - Generate contributed income as part of DAI's overall $850,000 operating budget. Increase financial
support for Dell'Arte International (DAI) from community donors, alumni, corporate giving, and public sources
Methods -
a. Partner with and support community leaders to build campaigns, community and alumni peer-to-peer
networks, community, and alumni donors, and others who are committed to increasing financial support
for DAI
b. Improve administrative systems and capacity to run an effective and efficient Development department
c. Expand Dell'Arte's staff and board involvement and capacity to take an active role in institutional financial
development efforts
d. Collaborate effectively with all related internal operations
Works closely with— Managing Director, Board of Directors, Head of Professional Training Program, Head of Arts
Engagement, Finance, Grant Consultant(s), Alumni Engagement staff, Marketing Coordinator
QUALIFICATIONS:
To perform this job successfully, an individual must be able to perform each essential duty satisfactorily. The
requirements listed below are representative of the knowledge, skill, and/or ability required. Reasonable
accommodations may be made to enable individuals with disabilities to perform the essential functions.
Education/Experience
• Equivalent of a Bachelor's degree + 3 years of experience in a related field.
• Proficient with sponsorship solicitation.
• Success in securing major gifts, grants, and sponsorships, as well as proven success at meeting and
exceeding revenue goals.
• Proven successful interactions with Boards and a diverse array of community stakeholders.
• Proven track record of supervising staff and successfully motivating and supporting board members
and volunteers.
• Experience executing digital/virtual fundraisers and events, or related digital/virtual activities
• Ability to develop and manage budgets and prepare financial reports.
• Experience using a CRM database, such as Salesforce or similar software.
• Strategic thinking and persuasive communication with understanding of the value of relationships.
• Understanding and continued learning around best practices.
Experience in place of a degree
• BA/BS degree is preferred, though long tenure working in Development can offset this.
Education in place of direct work experience
• Bachelor's degree in fundraising, non-profit management, business, communications, public
administration, nonprofit administration or the equivalent coursework in a related specialized field and
two+ years of related experience, or a Master's degree.
Preferred Qualifications
• A passion for, experience in, and understanding of the theatre, musical theatre, and theatre arts
education.
• Familiarity of the local Humboldt County community and its residents.
__________________________________________________________________________________________
DAI is committed to enriching its educational environment and its culture through the diversity of its staff,
faculty, and administration. Persons with interest and experience in helping organizations set and achieve
goals relative to diversity and inclusion are especially encouraged to apply.
We are open to consultants applying for this position.
Click here for the full job description!
Email or call with questions:
Alyssa Hughlett, Managing Director
alyssa@dellarte.com
(707) 668-5663 ext. 114