Whether We Like It Or Not
July 10, 2016 @ 4:00 pm

-

5:30 pm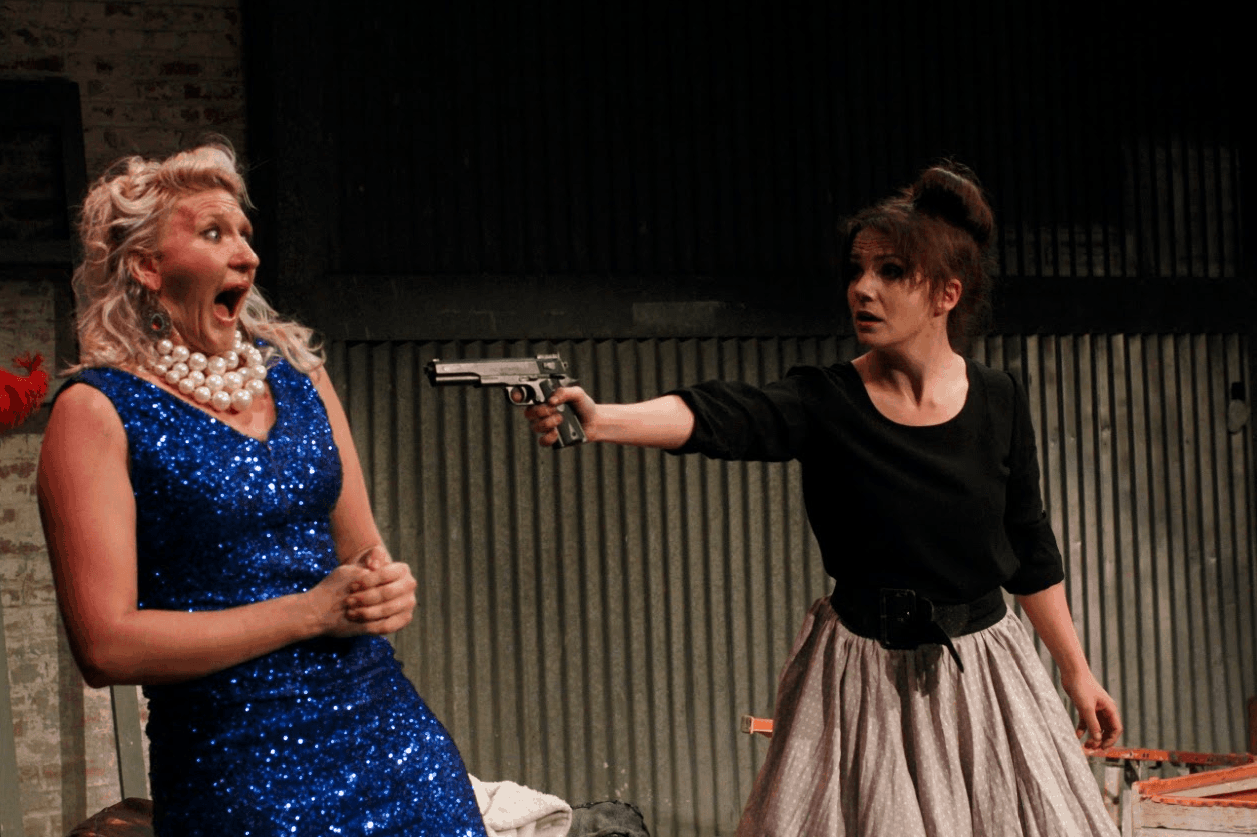 By AriLu Productions
Supported by the 2016 Nancy Lafrenz Memorial Scholarship
A Blonde and a Brunette walk into a living room with pent-up smoldering secrets and grudges, sisterly love-hate, and a gun. And you're invited! In fact, you are their friends, lovers, and bosses! Without having to do a thing, you become an integral part of the show. Blanche and Stella are bound to make you guffaw, cringe, pick sides, and laugh some more as you watch them slip, trip, recover, and fall, all while wearing 3 inch heels. "Whether We Like It or Not" premiered at Dell'Arte as part of the 2014 student Thesis Festival, went on to New Orleans Fringe, followed by New York City as part of The Flint and Tinder Series at The Tank.
Read the NorthCoast Journal Review here.
FROM ARILU PRODUCTIONS:
Clandestinely, we met at Dell'Arte International School of Physical Theatre, MFA class of '14.  AriLu Productions emerged out of a mutual love of physical comedy, female comic duos, and laughing with/at each other. We both studied with teachers like Ronlin Forman and Aitor Bausauri, inspiring a common aesthetic and knowledge. Based in Clown and Commedia, our process is character-driven, improvisational, failure-embracing, and fiercely honest.  We take comedy seriously and and laugh in tragedy.  Whether We Like It Or Not premiered at Dell'Arte, went on to New Orleans Fringe, and we are thrilled to have it now debut in New York!
ARTIST BIOS:
Ariel Lauryn: Actor Creator: Ariel's childhood crushes included the likes of Danny Kaye and Donald O'Conner.  But it wasn't until Lucy smacked her and said "You're funny, damnit!" that she finally realized physical comedy was her path. Since moving to NYC, Ariel has performed with The Talking Band, Columbia Stages, Stegosaurus, and LES Shakes. She is a member of Ume Group and Built4Collapse; directing, puppeteering, writing, and prat falling as she goes. www.ariellauryn.com
Lucy Shelby is an actor, creator, and comedian. Her greatest joy in life is creating raucous, infectious, shameless laughter. A laughter that sparks a fire within causing a flame so bright it cuts through all the darkness of pain leaving only light. She received her BA in Theatre Performance from Marymount Manhattan College, with an abroad semester at The British American Dramatic Academy in London. She has had the privilege to work with many great teachers from Steve Beauchamp, Ronlin Forman, Mick BArnfather, Aitor BAsauri, Selina Cadell, and many more. She is deeply humbled by her partner Ariel, and all of her opportunities to learn, grow, connect, perform, and understand more deeply the comedy of this human experience.  www.lucyshelby.com
Photo by Christopher Duggan.
Dell'Arte International