TEACHING EMBODIED PRACTICE
A 7-DAY INTENSIVE WORKSHOP FOR TEACHERS WHO WORK WITH ACTORS
With Dell'Arte's Founding Artistic Director Joan Schirle
2020 Dates Have Been Cancelled
---
Dell'Arte will offer, for the second time, an intensive workshop for theatre educators as an introduction to teaching embodied practice. 
Developing her work over four decades of teaching, Joan Schirle has incorporated the work of DAI's co-founder Carlo Mazzone-Clementi, as well as Viewpoints, Laban, dance, Delsarte, Commedia dell'Arte, mask work, Balinese performance, Patsy Rodenburg, and the Alexander Technique. From this range of influences and following her own experience as a working actor, director, and deviser, she has helped shape Dell'Arte's pedagogical approach to training the global, flexible actor, at home in a spectrum of styles. In 2018 the Association of Movement Theatre Educators (ATME) presented Schirle with a Lifetime Achievement Award.
Classes will meet from 9 a.m. to Noon and 1:30 p.m. to 4 p.m. daily, with evening showings of films, discussions, and lab work. Following daily warmups there will be work on curriculum material, approaching and motivating students, feedback loops, and working from personal strengths as a teacher. As part of their study, participants in this workshop will observe students in the Dell'Arte Summer Intensive, which each year draws 40 students to learn the foundations of the actor-creator work of the School.
Limited to 10 participants.
With Dell'Arte's Founding Artistic Director Joan Schirle
This is an advanced workshop for teachers with an active teaching practice in the field of performing arts. It is not necessary to have taught physical theatre, but teaching experience in the areas of acting, dance, voice, performance, directing, bodywork, etc. are a pre-requisite.
To Apply:
Send an email with "Teaching Embodied Practice" in the subject line.

 

Attach your cv/resume, plus a brief statement about your current teaching practice and the reason for your interest in this workshop. Email to:

 

 

info@dellarte.com
If accepted, a deposit of $250 is required to hold your place, with the balance of $850 due by May 1, 2020.
Housing is not included but there are a number of local options, including a special rate at the Blue Lake Casino Hotel. Please see below for more info.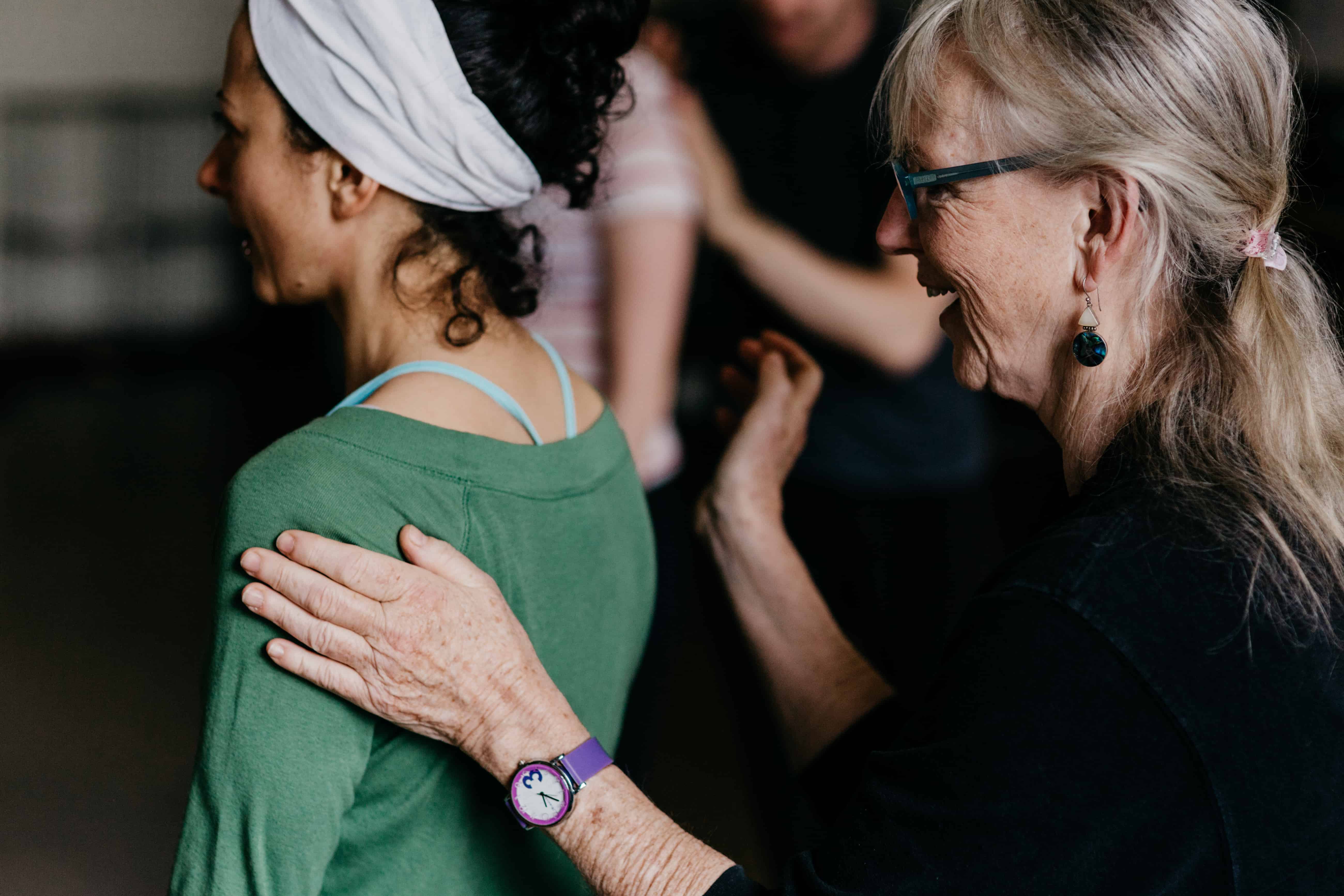 "At DAI we use our setting in the magnificence of rural Humboldt County, CA, to explore drama via the dynamics of nature itself.
The same forces manifest themselves in character, in daily movement, as well as the movement of performance and extreme forms of movement.
My teaching weaves the somatic and the artistic, the technical and the intuitive, and applies not only to teaching actors, but to the making of theatre, the coaching of productions, and work of the improviser and deviser."
– Joan Schirle
INCOMING STUDENTS
Accommodation
Limited rooms are available at Blue Lake Casino for a discounted rate of $79.00 for June 30 – July 6 for Teaching Embodied Practice participants. Rate expires 30 days before the start of the workshop. Book your rooms as early as possible since this is a busy season at the hotel. Ask for the Dell'Arte room block when making reservations. Call  (877) 252-2946 or visit bluelakecasino.com. 
Refund Policy
A full refund will be made until four weeks prior to the start date of the Intensive. A cancellation occurring after May 15, will be charged a cancellation fee of $100.

Once the Intensive has started, tuition refunds are prorated, less the above cancellation fee, until the halfway point of the Intensive has passed. Once the halfway point has passed, no tuition is refunded.

Dell'Arte International