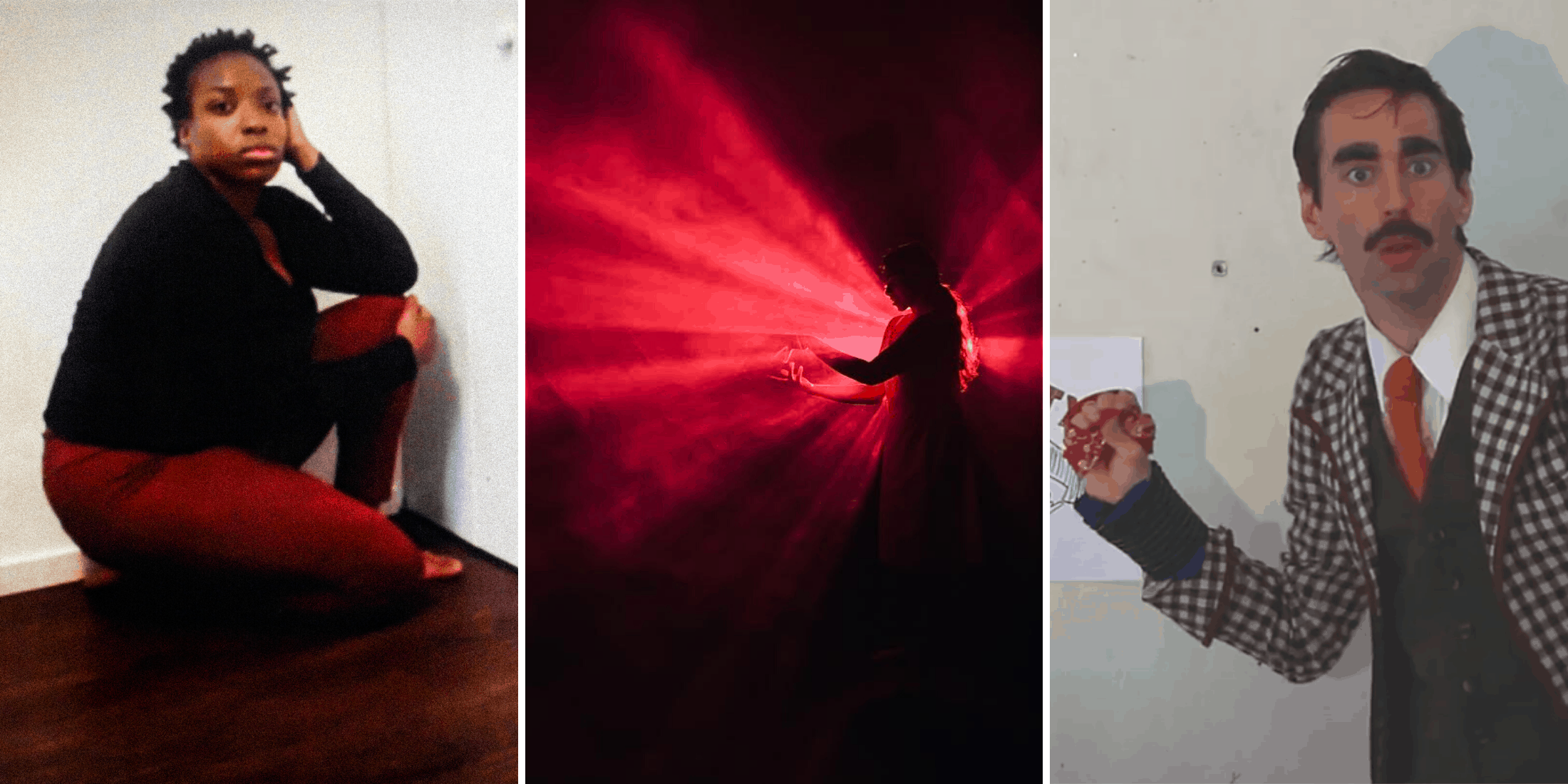 Frame by Frame: 2020 Thesis Festival
Due to the Covid-19 Shelter in Place Order, our MFA Thesis Projects will be shown online this year, from Thursday through Sunday, May 14-17 & 21-24.
The 2020 Thesis Festival features three new works created by members of this year's graduating MFA class who have adapted their projects to the current circumstances and made their work available to audiences online. This online festival marks the culmination of three years of graduate study by an international ensemble of theatre artists from Sri Lanka, Zimbabwe, and the U.S.
We are currently accepting donations in lieu of ticket sales. If you're able to give, please consider making a donation at the link below (please write "Thesis" in the order notes). As always, we are so grateful to you, our audience and community, for your support. We couldn't do it without you!
---
D
isparities
Created and Performed by Delilah Stowers, Dionna Fletcher, and Everson Ndlovu
8 P.M. LIVE ON ZOOM: Sign up HERE for the Zoom invitation and password and log on by 7:55 p.m. to be admitted into the performance. Please be prompt, as the virtual doors will close, to ensure an uninterrupted performance.
Thursday, May 14

Saturday, May 16

Thursday, May 21

Saturday, May 23
Third-year MFA student Everson Ndlovu is collaborating with artist and Dell'Arte alumna Dionna Fletcher and artist Delilah Stowers for the culminating thesis piece of his studies called "Disparities." The ensemble will premiere the piece live via Zoom during Dell'Arte's Thesis Festival. 
From the Artists: Everyone is caught in a dream of ideas that don't accept, respect, and honor the diverse complexion of Mother Earth. Oppressors have created a longstanding color of law and culture to separate, isolate, and dehumanize People of Color mentally, physically, and spiritually. Domesticated by the oppressive human hierarchy, these second citizens experience and express the lack of humanism and social justice which has tainted their existence. It is disquieting to desire to navigate the system and a powerless paradox while facing it. How do they continue transforming this darkness into light?
Delilah Stowers is a human being in discovering her destiny through the time of her being. By doing so, she graduated from Humboldt State University with a bachelor's degree in Dance Studies, attended the 2020 American College Dance Association's West Conference, and continues her studies through collaborations and individual work. She is destined to enkindle enlightenment within and upon the world to blossom the purity of peace and harmony through the creations of art by dance, painting, and poetry. 
Dionna Fletcher is a Yonkers, New York native by way of Baltimore, Maryland, and is a Physical Theater Creator, Afrocentric Dance Artist, and Kemetic Yoga Instructor. Her work comprises writing and performing contemporary work though literal and abstract movement and is informed by the Black experience and expression. Education: Morgan State University, B.A. — Theatre Arts, Dell'Arte International School of Physical Theatre, Certificate. www.DionnaFletcher.com.
Everson Ndlovu is an award-winning theater practitioner from Harare, Zimbabwe. He advocates for social change and equity through his work. Everson is passionate about putting the body at the center of storytelling. He is studying with Dell'Arte International School of Physical Theater to open up his creativity and find  new and unconventional methods to tell stories onstage.
Once Upon a Time I was addicted to You
Created by Veenadari Lankshika, Jayampathi Guruge, and Nipuni Sharadahra; Performed by Veenadari Lankshika
This piece will be recorded and available by  8 PM FRIDAY, MAY 15 - SUNDAY, MAY 17 & 8 PM FRIDAY MAY 22 - SUNDAY MAY 24 HERE.
Third-year MFA student H. Veenadari Lankshika is collaborating with an ensemble she has put together from her home country of Sri Lanka to create the culminating thesis piece of her studies called "Once Upon a Time I Was Addicted to You." Along with Dell'Arte Alumn Jayampathi Guruge and University of Visual and Performing Arts Alumn Nipuni Sharadahra, the group is creating a solo piece that will be performed by Veenadari and released online.
From Veenadari:  "Don't we all love to listen to fairytales that begin with "Once upon a time" and end with "happily ever after"? Not all stories are fairytales and not all stories have happy endings. However, we become addicted to what is familiar to us and then feel like we need it to survive. But does that mean we are happy? "Once upon a time I was addicted to you" is the result of a process that our ensemble had to adapt to, working for 10 weeks developing the one-act play online from Sri Lanka and the U.S.A.. The international production is inspired by true stories. 
Veenadari Lakshika Jayakody is a physical theatre artist from Sri Lanka where she has worked in her field since 2011. She is the recipient of multiple awards from the All-Island Drama And Theatre Festival in Sri Lanka for her work in "Ape Loke Pata Wela" and "Sammanayak" directed by Kokila Nisanka and a former member of the Sri Lankan Company Tower Hall Theatre Foundation. She holds a bachelor's degree  in Performing Arts from Lovely Professional University in India. Currently, she is completing a Master of Fine Arts degree in Ensemble-Based Physical Theatre from Dell'arte International School Of Physical Theatre in the U.S.A. and has been a performer with the Dell'Arte Company since 2017. 
"🐓✋☠️👩‍⚕️ or Boo Boo: The Big Ouchie"
Created and performed by Andrew Lupkes, Abigail Maguire and Joël Vining, with provocation from Erin Crites.
This piece will be recorded and available by  8 PM FRIDAY, MAY 15 - SUNDAY, MAY 17 & 8 PM FRIDAY MAY 22 - SUNDAY MAY 24 HERE. 
Third-year Dell'Arte International MFA students Andrew Lupkes and Joël Vining, in collaboration with 2019 PTP graduate Abigail Maguire, present, "🐓✋☠️👩‍⚕️ or Boo Boo: The Big Ouchie." This piece was devised with best efforts to follow social distancing protocols, with a theme inspired by the present circumstances, examining how the drudgery of day-to-day office existence becomes a little more lively as death starts to hang around. 
Abigail Maguire, aka Abby, was born in the "Show Me" state, moved as a child to The City of Brotherly Love, then back to their origin state as a youth. They started high school in the Sunshine State and completed their Bachelor's Degree there and moved to the Golden State to attend Dell'Arte. Abby has sustained their inner child to the benefit of adults in need or appreciation of playfulness. A child they work with, in their current occupation as a Behavioral Therapist, directly benefits from Abby's sense of playful presence. 
Erin Leigh Crites is an international theatre artist, educator, and purveyor of make-believe. In the past five years, Erin has traveled extensively to explore the global community and create bonds through theatrical play. She performed in the debut production of The Christians at Actor's Theatre of Louisville and after its critical success, joined the cast to perform again at the Mark Taper Forum in Los Angeles in 2015. She originated a role in Nobel Prize Winner Dario Fo's newest, unpublished play, La Storia di Qu for the International Milan Expo, performed in Kenya, Nicaragua, and Colombia as an ensemble member of Clowns Without Borders, and danced in Bourbon Baroque's Dido and Aeneas at the Kentucky Center for the Arts. Before moving to Los Angeles, Erin was the Director of Graduate Studies and Head of Movement for the Master of Fine Arts program in Acting at the University of Louisville, Kentucky. She has a passion for travel and creating community, often through theatrical endeavors. She holds an MFA in Ensemble-Based Physical Theatre from the Dell' Arte International School of Physical Theatre. Erin is full-time faculty at the Idyllwild Arts Academy, Vice President of the board of directors for Clowns Without Borders USA, an Alexander Technique Teacher in training, and a performing artist with LA-based company, Fiasco! Physical Theatre.
Andrew Lupkes is an embodied mover and poet originally from Iowa. He is a graduate of Buena Vista University in Storm Lake, Iowa, and completed the Apprenticeship Program at the Purple Rose Theater Company in Chelsea, Michigan. This Thesis is the beginning of a lifelong study and play with Clown. 
Joël Vining is a person who sometimes likes to create stuff. Good job Joël. He did his undergrad at Western CT State U and worked as a theatre artist in Chicago for a decade before quitting the theatre to travel for several years. Now that he has returned, he wants to unabashedly create work that lives near the edges of his own and his audience's comfort zones.