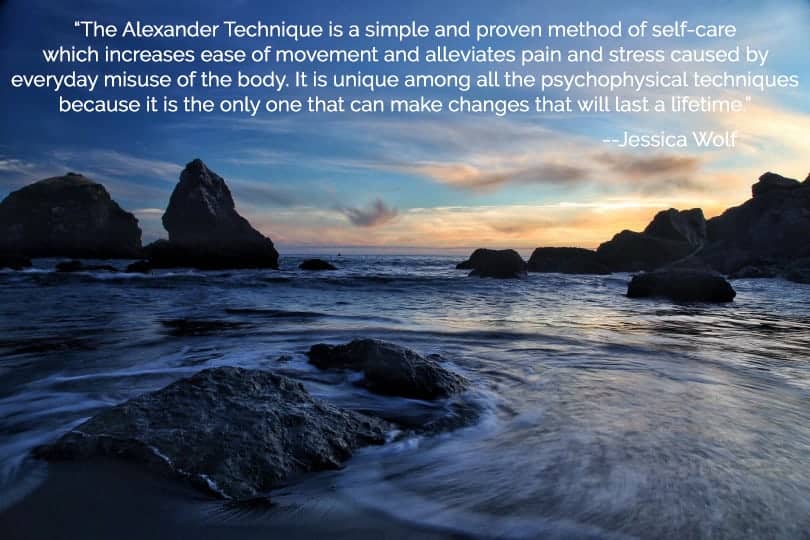 Alexander Technique 5-Day Residential Workshop
A Community Workshop in the Art of Ease and Skillful Living
with Master Teacher Joan Schirle and senior teachers Joe Krienke & Dana Calvey
July 29 – August 2, 2019
---
The Alexander Technique is a simple and practical method that improves ease, freedom of movement, balance, support, mobility, and coordination. Open to all ages, levels of experience, and walks of life, this retreat offers the opportunity to discover a new way to experience, perceive, and enjoy the spectacular gifts of the natural world that the Humboldt County Redwood Coast offers to its residents and visitors. These experiences along with master classes held at the historic Blue Lake Odd Fellows Hall–now the internationally renown Dell'Arte Company and School–are sure to expand the senses, enliven the body, and provide practical tools for greater ease and support in everyday life.
Enjoy peaceful walks, hikes, and scenic vistas of the treasured lands surrounding sunny Blue Lake
Group outings to old growth Redwood groves,  magnificent northern California beaches, boat rides on Humboldt Bay, visits to Eureka Old Town Art Galleries and museums, and bonfires at riverside under the stars provide ample opportunities to experience the Alexander Technique in an array of stimulus.
Organic and fresh lunches that accompany a full and easeful day of Alexander Technique group and private lessons
Copious opportunities for meaningful reflection, connection, and conversation
Prices vary.
For specific pricing information contact the workshop coordinator, Alyssa Hughlett at:
(707) 668-5663 ext. 128
alyssa@dellarte.com
For non-residents Dell'Arte can offer apartment housing at a special workshop cost.
Spaces are limited. To register for the workshop please fill out the Workshop Registration Form by Clicking Here and pay the non-refundable workshop deposit online or by sending a check to Dell'Arte in the amount of $50 to hold your spot in the workshop. This deposit will be deducted from the total workshop fee that is owed in full by July 1, 2019.
If paying in full at the time of registration there is no $50 fee, however, Dell'Arte reserves the right to withhold this fee amount should the participant need to cancel and be refunded. All cancellations must occur no later than July 1, 2019, in order to receive the full amount of refund minus the non-refundable fee.
Dell'Arte International