We are so grateful to Lauren Wilson, our School Director of the last 5 years, faculty member, and theatre artist, for her guidance and vision. Despite hearing from many graduates and colleagues about the profound positive effect Lauren has had on their work and lives in her performance review, and a unanimous vote of confidence from our board to continue as School Director, Lauren has decided to step aside and make room for new leaders to emerge.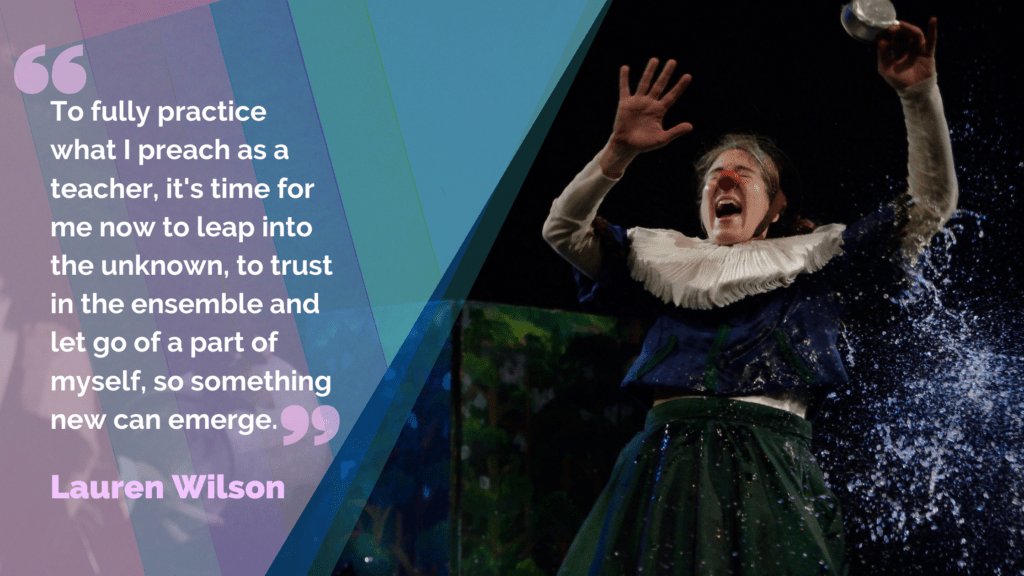 Dell'Arte is very happy that Lauren will stay on the faculty and continue lending her invaluable voice and instruction to our students. We thank Lauren from the bottom of our hearts for her compassionate leadership, her tireless and often invisible work, her skill as a teacher and artist, her undying commitment to our students, and her vulnerability as we embrace changes ahead.
Please find a message from Lauren below: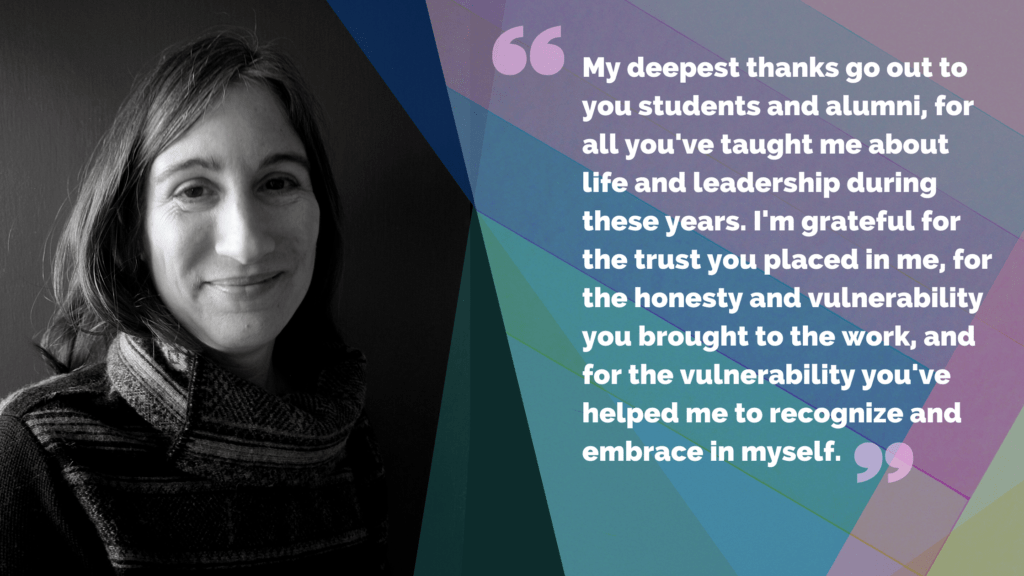 Dear Dell'Arte Community,
This is to let you know that I've decided to resign from my position as School Director at Dell'Arte, effective October 1. My plan is to stay on as a faculty member this coming school year, and I truly look forward to working with students and colleagues in that capacity.
The Dell'Arte Board of Directors recently completed a 360 review of my work, and returned a unanimous vote of confidence in me and in my job performance as School Director. In spite of their vote of confidence, which I deeply appreciate, I believe the best thing for Dell'Arte in this moment is for me to step aside and make room for others to lead. It's time for Dell'Arte to place our racial equity goals at the center of decision-making and to embrace this as a priority, for the benefit of the artistic work, the students, the audience, and the integrity of the training itself. By stepping aside, I hope to help support and further that work through my actions as well as my words.
I'm proud of the work I've done as School Director, and the progress we've made as a school in the past five years. During that time I've watched the school transform, becoming a place where creativity, joy, ensemble spirit, democratic values, multiculturalism, rigor, and love for the transformative work of theatre thrived. As one of the few women ever to hold the School Director position at Dell'Arte, I hope I've helped set a precedent for the kind of invisible, compassionate, principled leadership which serves a community of artists and students best.
My deepest thanks go out to the Dell'Arte students and alumni, for all you've taught me about life and leadership during these years. I'm grateful for the trust you placed in me, for the honesty and vulnerability you brought to the work, and for the vulnerability you've helped me to recognize and embrace in myself. To fully practice what I preach as a teacher, it's time for me to leap into the unknown, to trust in the ensemble and let go of part of myself, so something new can emerge.
With hope and gratitude,
Lauren