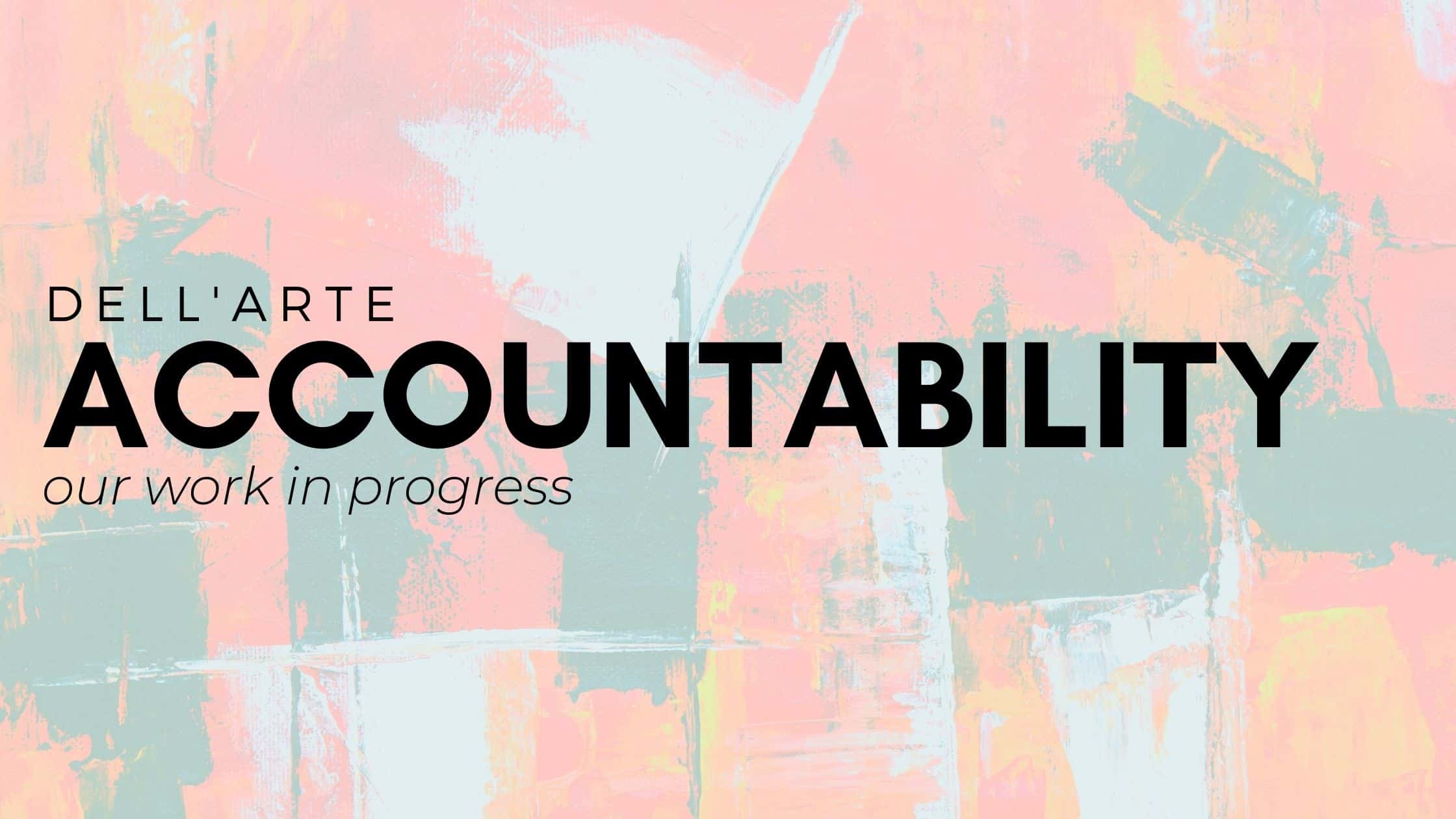 ---
Dell'Arte International would like to acknowledge Sayda Trujillo and Pratik Motwani for their contributions towards initiating, centering and foregrounding the dialogue and learning around anti-racism, racial equity, inclusion, diversity, and accessibility at Dell'Arte. During their tenure at the organization as artists and teachers, they facilitated discussions with staff, students and board that expanded Dell'Arte's understanding around racial equity. Their work had a positive impact in promoting greater cultural sensitivity, as well as race-conscious and antiracist frameworks for both artistic and teaching practice, research, expression, and community engagement.
Dell'Arte has created this page, a work-in-progress, to disseminate information about our accountability processes as we move through the transformative work of creating an anti-racist organization. Dell'Arte is an organization in process, born out of a vision for theatre based in the Mask, a theatre which is not text-centered, but grounded in the body and in our resonant physical connection to the natural world and to each other. Since its founding, Dell'Arte has been changing and growing for five decades in response to the world around it. Our aim is to help nurture a 21st Century theatre and actor-training program beyond our current imaginations, a true place of belonging for diverse artists and audiences in the 50 years ahead.
---
We have created an email address to solicit feedback from anyone who has a perspective they'd like to share with us.
The email address is accountability@dellarte.com. This is a place to send any comments or questions you have about equity at Dell'Arte, so that our staff can be in dialogue with our wider community and respond to your perspectives. This is just one avenue and method to connect with you and you can read our answers below. Expect added engagement and feedback opportunities to be developed as part of the work we will be doing over the next 11 months. We are starting here. Your ideas are welcome. 
---
1,) "I understand the complexity of unraveling the systemic racism and sexism in our society but what the hell is this sentence supposed to mean? 
 'It will be an intersectional, qualitative, and quantitative analysis utilizing and informing decolonized policies and practices drawing from BIPOC traditions.'
Your email was full of this. Isn't part of the theatrical tradition to know and speak to your audience? This language left me confused and a little disappointed. Please, let's keep it real and simple and not lose ourselves in a bunch of buzzwords and fancy language."
Response:
Great question! As we work to clearly express our intentions and account for our actions to bring about substantive change in Dell'Arte, we're doing tons of research as well as working with our external auditor and mediators (You can view the timeline of that work at Accountability DAI/; scroll to Racial Equity Audit). In this process we're learning words from others who've long been working on anti-racist practice and the impacts of white supremacy culture on organizations. Some of the academic-sounding words don't sound like the DAI you know, but they're helping us understand a complex picture:
1)    Intersectionality studies the relation between the many different ways that people are kept in a lower social position, controlled, and left out of important parts of society because of their differences, including race, class, and gender.
2)    In DAI's case, quantitative analysis might look at numbers of students of color, for example, whereas qualitative analysis might examine the experience of those students both in our training program as well as in Blue Lake/Humboldt County.
3)      The idea of 'de-colonizing' is to really look at how we may be perpetuating systems of oppression that are built into the Euro-American way of doing things. "Settler Colonialism" especially applies to the USA, Canada, and Australia, where the settlers not just dominated those who were already there, but removed or exterminated them. Because community engagement is such a big part of our mission, it's important we look to our practices past and future. More at :

Decolonizing Community Engagement   American Settler Colonialism

https://howlround.com/decolonizing-theatrela-descolonizacion-del-teatro
https://www.momentumstage.org/decolonize
https://www.tonictheatre-advance.co.uk/advance-2016/central/
https://www.ayoungertheatre.com/on-creating-intersectional-theatre/
Thanks for the question!
---
Please read "A Message to Our Community" from School Director Lauren Wilson for perspective of Dell'Arte's accountability journey in the summer of 2020.  Click here to read.
---
Board Resolution, July 13th, 2020
Organizational Changes Regarding Equity, Diversity, & Inclusion
On June 23, 2020 a collective response was issued via email and over Facebook to the Board and Management Team from three Dell'Arte Staff Members and six former staff members and alumni. The Collective Response outlined action steps that they believed were necessary to resolve past grievances related to toxic culture perpetuated by White Supremacy Culture (Dismantling Racism: A Workbook for Social Change Groups, by Kenneth Jones and Tema Okun, ChangeWork, 2001)
"Culture is powerful precisely because it is so present and at the same time so very difficult to name or identify. The characteristics [listed in WSC worksheet) are damaging because they are used as norms and standards without being pro-actively named or chosen by the group. They are damaging because they promote white supremacy thinking. They are damaging to both people of color and to white people. Organizations that are people of color-led or a majority people of color can also demonstrate many damaging characteristics of white supremacy culture."
The board stands with the authors of the collective response:
I. The Board of Dell'Arte embraces the collective response as a powerful gift; one that gives us the impetus to find direction, take responsibility and commit to a culturally evolved future after years of internal turmoil. The collective response is not an annoyance for us to manage, but rather a mirror of peoples all over America and the world seeking to terminate the colonial bondage of White enforced cultural and racial hierarchies. No traditionally White institution stands clear of this White Supremacist structure, hundreds of years in the making. We can and must be an active collaborator in constructing an Antiracist future.
II. We commit immediately to enhancing staff and board leadership which not only strives to understand and practice Equity, Diversity and Inclusion, but which places that practice at the institutional and creative heart of Dell'Arte, as reflected in its leadership. We see the creative world birthing new equitable avenues of exploration and interpretation of our country's and the world's history, cultures and art. A great artistic vitality opens before us upon which to build a stronger and contemporarily meaningful Dell'Arte.
III. We will consider all avenues available to us to get on aligned footing with those who have challenged us on Equity, Diversity, and Inclusion, including the nine signatories to the collective statement, and other current and prior staff, students, alumni and community members.
BE IT RESOLVED, the following resolutions are distributed and a vote tallied at the July 8, 2020 Board Meeting:
It is hereby resolved that the Dell'Arte, Inc. Board recognizes and acknowledges that Dell'Arte's leadership perspective comes from a racially affected framework and that by acknowledging this we take responsibility to address inadequate oppressive policies and practices and redress the disproportionate burden this racially affected framework has on Dell'Arte BIPOC students and staff. The Dell'Arte Board recognize that the following characteristics damage both people of color and white people and stand in the way of racial justice and equity: perfectionism, sense of urgency, defensiveness, quantity over quality, worship of the written word, paternalism, either/or thinking, power hoarding, fear of open conflict, individualism, progress is bigger (more), objectivity, right to comfort.
It is hereby resolved that the Dell'Arte, Inc. Board approves the following:
1. That Dell'Arte hereby apologizes to the Collective Response Group, all Staff, Dell'Arte Students and Alumni; and is sorry for the organizational culture where the unaddressed and oppressive norms and characteristics of white supremacy culture have created stress, trauma, and other unfair, or harmful situations for any current or former staff and students. Dell'Arte is deeply sorry for the disproportionate stress and burden on BIPOC staff and students, and is taking concrete action steps to examine and understand White Supremacy Culture and how it affects operational decision-making, policies, and practices with Dell'Arte. Dell'Arte is actively taking steps to learn and adopt an antiracist framework for viewing its operations and core mission, vision, and values.
2. To hire and attend a facilitated learning and responsibility group training for Dell'Arte Board Members to educate, examine, and discuss WSC and oppressive practices.
3. To hold the Management Team responsible for adopting an Antiracist framework for viewing board, school, and company values, vision, mission, purposes, student and personnel policies/practices, artistic pedagogy, and culture.
4. To conduct three audits by September 30, 2021: Racial Audit (outside), Internal Racial Equity Audit (led by taskforce working with an outside company), and a Historical Audit.
5. Support the collaborative efforts of staff and leadership in implementing systemic and structural changes brought about by all three audits mentioned above.
6. To review, amend, or change Board Bylaws to reflect antiracist policies, oppressive practices, and any organizational changes made manifest by the racial equity audits.
7. To review and evaluate the Management Team before the September 2020 Board Meeting, present a report of the evaluations, then take action for a vote of confidence or no confidence in each of the individual positions to continue or not in the positions for the rest of the 2020-21 Fiscal Year.
8. To approve a formal Board Committee whose purpose is to consistently engage with Racial Equity, Diversity, and Inclusion Practices to set goals in order to hold the organization and board accountable. The committee's first task to review and address the process for Board recruitment, onboarding, and retention of a racially, generationally, and gender diverse board that reflects the growing diversity of audience, students, and the community that Dell'Arte serves and / or engages with.