2016 Thesis Festival
May 12, 2016 @ 8:00 pm

-

10:00 pm

Free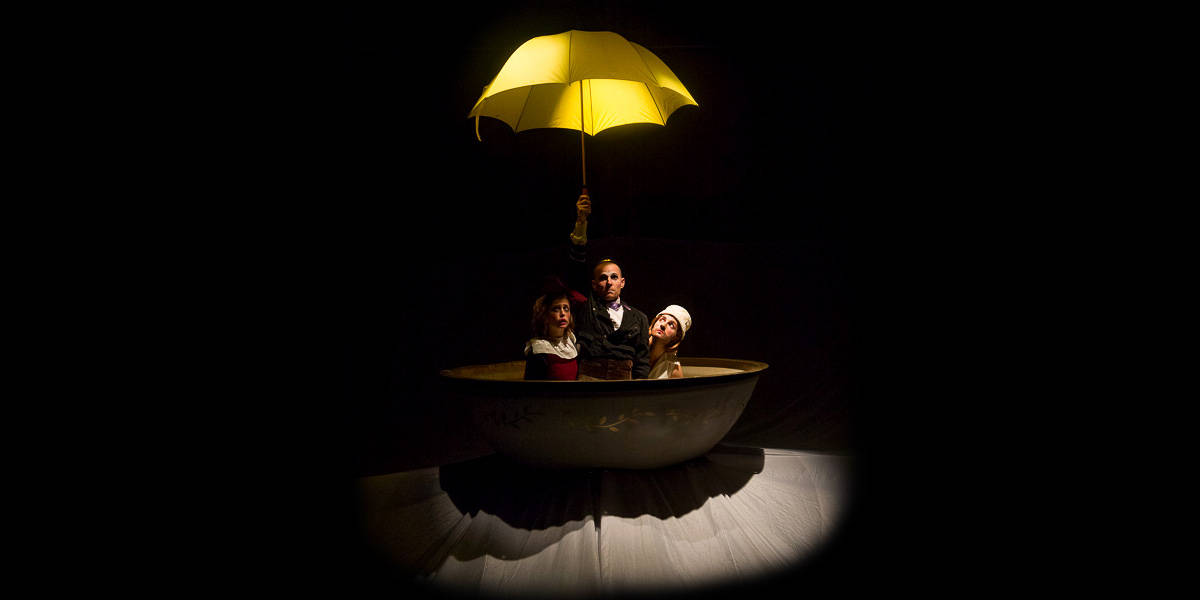 Presented by Dell'Arte 3rd year MFA 2016 graduates
Pay-What-You-Can
Appropriate for ages 16 +

Dell'Arte International School of Physical Theatre presents the 2016 Thesis Festival featuring five new one-act plays created by this year's graduating MFA class. The international ensemble of theatre makers will perform their work May 12 – 15 and May 19 – 22 at 8 p.m. at the Carlo Theatre in Blue Lake. The festival will show three of the works including In The Trenches, Tea Time, and Happyland on Thursdays and Saturdays; and Quo and A Feebleminded Mayhem on Fridays and Sundays. Ticket holders will be able to bring their stubs in for admission to any corresponding evening in order to see all five plays. The 2016 Thesis Festival marks the culmination of three years of study by artists from 10 different countries. These theatre-makers of tomorrow have engaged a myriad of styles promising a spectacularly diverse and exciting evening of performance! Appropriate for 15 years of age and up.
The 2016 Thesis Festival includes:
In The Trenches
An apocalyptic war zone transforms into a fast-paced, vaudevillian slapstick extravaganza when we meet three clown soldiers forced into the trenches of World War I. Created by MFA student Jared Mongeau (U.S.A), and guests Dustin Allen (Canada, Dell'Arte PTP graduate 2014) and Linus Wiberg (Sweden, Dell'Arte PTP graduate 2014).
Tea Time
Under the watch of an omnipotent, unseen authority, two chaotic comrades are imprisoned for eternity. Their dreams and imaginings are the closest they can come to liberation, proving their confinement to be the most powerful companion in their resistance as they escape into a world of their own creation. Dancing for freedom and dancing for life, these two idealists find a way to subvert their oppressors despite their intransigent circumstance. A sublime comedy that explores power, submission, and the folly of hope; created by Buba Basishvili (Republic of Georgia) and Yan Christian Collazo (Puerto Rico). As one prisoner said to the other, "It is prohibited to forget!" And the second replied, "let's have some tea first."
Happyland
This is not a smart play. It is just a joke. A joke that people really get beaten, heartbroken, and lost. This poem is a play. It's a bizarre love story. It is as real as your dreams. SO, get your ass off the couch – it's time to fight! In the most epic underground match of the year, Sweet Suzy "The Smasher" defends her title as top female wrestler in her 500th match! Will she beat newcomer Charlie S. for the gold? Live commentary by all-time favorite Ray "The Fish" Smith! Created by international female trio Grace Booth (U.S.A.), Tone Haldrup Lorenzen (Denmark), and Vida Tayebati (Iran). See you in the ring.
Quo
Trapped in a universe unbound by logic, three proscribed creatures seek salvation from a seemingly unending curse: a time loop that keeps them from moving forward. Dependent on one another for survival, they soon discover that things are not what they seem and time is starting to run out! Together, they must find a way to escape before it's too late. Quo is an absurdist physical comedy inspired by the issues of inequality, diversity, oppression, and violence created by MFA students Robi Arce (Puerto Rico), Yiouli Archontaki (Greece), and guest artist Stella Evangelia (Greece).
A Feebleminded Mayhem
A Feebleminded Mayhem is the story of three women living in isolation after being rejected by society for their vicious vices. Enclosed in a haunting world of shadows and make-believe, they revel in delightfully askew delusions, unfurling the codes they have created to survive and a past that has driven them into hiding. The women are free to play their games of ludicrous invention until tyrannical fantasies go too far and reality threatens to come crashing in. Grey Gardens meets Looney Tunes in this absurdist fall brought to life with shadow play, outlandish physical comedy, and enchantingly grotesque characters. Created by international female trio: MFA students Erin Johnston (Canada) and Kate Tobie (U.S.A.), as well as guest Brittny Rebhuhn (U.S.A., Dell'Arte PTP graduate 2014).
Dell'Arte International