The Orchard Project in Saratoga Springs, NY is one of the preeminent theatre laboratories in the United States. It is designed to fuel innovation in performance and support bold voices and big new ideas. Each summer, it supports more than 100 artists, working on more than 20 separate projects. Dell'Arte's founding artistic director Joan Schirle will be in residence at the Orchard Project June 11 – 19. She'll  work with the three founders of Til Lalezar, the company formed by Dell'Arte MFA grads Tone Haldrup Lorenzon, Vida Teyabati, and Grace Booth.
The Orchard residency supports development of a project Schirle began last year in Denmark with sculptor Marit Benthe Norheim, creator of Life-Boats. The three ferro-concrete sailing vessels represent a woman's life cycle: My ship is loaded with Longing, with Life and with Memories. These floating culture houses are now a flagship symbol of the international festival AARHUS-2017.  Aarhus and the 18 other municipalities in Central Denmark Region celebrate their year as European Capital of Culture in 2017. Schirle sailed on the maiden voyages of the Life-Boats in 2016. She is collaborating with Norheim to develop theatrical events on the boats related to migration via waterways, with women of many nationalities.
Orchard Residencies include free rehearsal space, room and board, and support from fellow artists. The Orchard Project, founded by artistic director Ari Edelson in 2008, has supported companies big and small, established and emerging. It has birthed shows that have been performed for more than 450,000 people in New York, London, and as far afield as Tokyo and Stockholm.  The Orchard Project prioritizes bold thinking, innovation, risk taking, creativity, community, and open mindedness — and it seeks to work with people who share those priorities.
Past resident companies have included The Royal Court, the Public Theater, Tectonic Theatre Project, The Atlantic Theater Company, Pig Iron, The Rude Mechs, American Repertory Theater, Paines Plough, The TEAM, Mabou Mines, and more.  Orchard Project-born shows include TONY®-winning 33 Variations on Broadway; The Royal Court's Posh (also on the West End); Obie-winning The Aliens, The Shipment, and Architecting; and Robert Schenkkan's TONY®, Steinberg, and Kennedy-winning Broadway hit All the Way.
Schirle's travel to collaborate with Norheim in 2016 was supported by the TCG Global Connections Program, and the Association of Arts Presenters (APAP).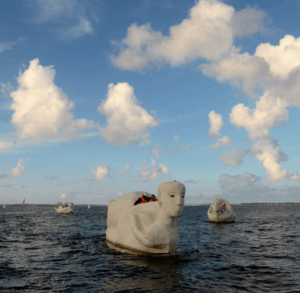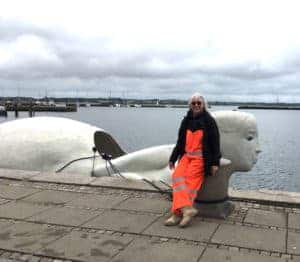 Joan Schirle with the Life-Boats in Denmark, 2016